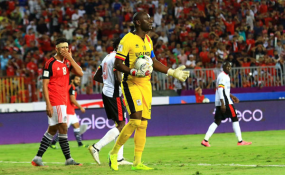 Photo: FUFA Media/The Monintor
By Andrew Mwanguhya
Kampala — Tuesday night's 1-0 defeat to Egypt saw Uganda drop back into second position and hand coach Hector Cuper's men the steering wheel. Here is what we learned from the Alexandria clash.
Still a lot more to play for
Egypt and Mohamed Salah might have reclaimed initiatives from coach Moses Basena and Cranes but a lot more can happen in another 180 minutes. By their display in Alexandria, and throughout the five earlier games, Uganda will chase this to the last day. All they have to do is carry out their business against Ghana at Namboole next month and Congo away and let fate sort itself.
Cranes have grown character
Skipper Denis Onyango continues to star for the Cranes, while Farouk Miya's goals have dried up a little. Miya's recent underwhelming performances have hardly been helped by limited action at his Belgian club. But the one thing you cannot accuse the Cranes of on Tuesday night and throughout is lack of character, of ambition. Egypt and Ghana may admit their standards have suffered in recent times. But the duo will definitely confess to you Uganda have markedly improved.
Onyango! Just too good
Even before Uganda walked into that cauldron of a stadium in Alexandria, Onyango's undisputed title of Africa's best between the goalposts had been emphasized by being named in Caf's best XI of 2018 Fifa World Cup qualifiers Match Day Three. The Mamelodi Sundowns shot-stopper proved that by making three match saving saves. Salah did finally breach Onyango but that was after the goalkeeper had stopped his first attempt. Onyango has stopped many top class strikers over the years, one wonders why he still cannot be trusted enough to stop them from Europe.
Wadada slips for Salah to finally manifest
Early jitters saw Nicholas Wadada - under pressure - charge toward his goal, then change direction and re-channel his man forward-bound. But the diminutive Vipers man lost footing, and possession, allowing an Egyptian player to pick out Salah's run. One mistake, and a goal. Salah had been kept quiet by Godfrey Walusimbi in Kampala. Walusimbi and co felt his presence, trickery and speed in Alexandria.
Cranes defence still world's best
First, no shame in conceding your first goal in 456 minutes to Egypt and Salah. But it had to take a double take from the Liverpool man after Onyango's wall had kept out the first. Uganda had gone five World Cup qualifying matches without conceding, bringing them into Tuesday's match as the best defence in the world. Actually, the Cranes, together with Morocco, remain the only countries in the world to have conceded just once since qualifiers started in October 2015.
Basena should complete WCQs.
Two World Cup and Chan qualifying wins and as many losses respectively is hardly a shabby statistic for an interim coach. Fufa gave Basena and Fred Kajoba the two ties against Rwanda and Egypt as they look for a permanent coach. But after the said games, the current technical team - that now also includes Ibrahim Sekagya and Matia Lule - have done at least just enough to earn the remaining two qualifying fixtures of the World Cup against Ghana and Congo Brazzaville, from which they can further emphasize their case.