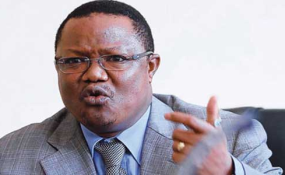 Photo: File photo/The Citizen
By The Citizen Reporter
Dar es Salaam — Rombo Member of Parliament Mr Joseph Selasini (Chadema) says according to information for Mr Tundu Lissu's driver the assailants tracked Mr Lissu shortly after he left Parliament in the afternoon.
Mr Selasini said along the way the driver notified Mr Lissu of the suspicious car which was following them.
Shortly after they arrived at Mr Lissu's residence, the driver asked Mr Lissu to remain in the car.
"The driver told me that after they stopped, the occupants from the other car also stopped a few metres from them but when they noted that Lissu is not coming out, they opened a window and shot one yre. They them started to shoot on the passenger's seat where Mr Lissu was sitting," said Mr Selasini.
After the shooting the car sped off.
Speaking later, Mr Mbowe said Mr Lissu was in critical condition.