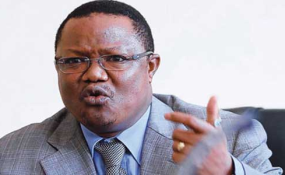 Photo: File photo/The Citizen
By The Citizen Reporter
Dar es Salaam — Reports from Dodoma say that outspoken Singida East MP, Tundu Lissu (Chadema), has been shot by unknown assailants.
Serengeti MP, Marwa Ryoba, told The Citizen in Dodoma today, September 6, that Lissu has been rushed to Dodoma General Hospital for medical attention.
Police were yet to confirm the incident but another opposition MP, Zitto Kabwe (Kigoma Urban-ACT Wazalendo) also tweeted that Lissu has been shot.
"Our fellow MP for Singida East, Tundu Lissu, has been shot. He has been rushed to Dodoma General Hospital," wrote Mr Zitto in his Twitter account.
The Citizen reporter in Dodoma says after arriving at Dodoma General Hospital Lissu has been taken to a theatre apparently for operation.