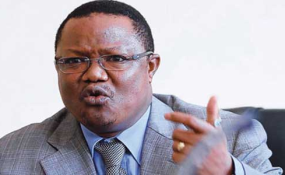 Photo: File photo/The Citizen
By Citizen Reporter Newsttz.nationmedia.com
Dar es Salaam — Initial operation on Singida East MP, Tundu Lissu, who was shot earlier today has been successful.
Mr Lissu has emerged from operating room conscious and has been referred to Muhimbili National Hospital for further treatment, according to minister for Health, Ms Ummy Mwalimu.
Ms Mwalimu said initial treatment on Mr Lissu was successful and plans were underway to send him to Muhimbili.
However, information circulating in social media hinted that Mr Lissu will be airlifted to Nairobi, Kenya.
Messages from various people and institutions have continued to call for swift investigation on the attack so that the culprits could be made accountable.
Chama Cha Mapinduzi said in a statement signed by its Ideology and Publicity Secretary, Mr Humprey Polepole that Police should thoroughly investigate the incident and take appropriate actions against those who would be found liable.
Tanzania Human Rights Defenders Coalition (THRDC) also echoed its condemnation of the attack.