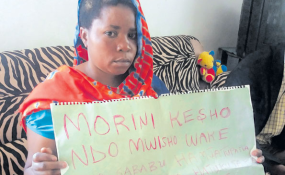 Photo: The Citizen
By Yasinta Amos in Arusha
THERE'S a strange twist of events leading to the death of an alleged child kidnapper, Samson Peter, 18, who was pronounced dead within a day of his confession.
Peter who just yesterday was said to have confessed before the police force that he killed two kids in Arusha and dumped them in sewerage tank after releasing another two, has died from gunshot wounds, when he was, ostensibly trying to evade police officers.
Arusha Regional Police Commander Charles Mkumbo said here yesterday that the suspect, who had been 'helping' the police in their investigations was allegedly shot on legs during vain attempts to escape.
The RPC said that Peter was just about to reveal the identity of other conspirators of the kidnappings when he decided to 'jump' custody, according to RPC Mkumbo, who also said that the incident occurred at around 2300 hrs at Mkonoo area, Muriet ward.
"When they arrived at the area, the suspect (Peter), instead of showing the police officers the whereabouts of his pals, he tried to escape ... but the police were alert ... first firing a warning shot in the air ... but he kept running ... so they shot him in his legs, and later took the suspect to Mount Meru Hospital where he died," the RPC said.
The RPC also said investigations were still under way -- so that all other criminals were arrested. On Wednesday, the RPC said that Peter acknowledged to have kidnapped four children in the city, releasing two of them and killing others -- Maurine David, six, and Ikram Salum, three, before escaping to Geita where he was apprehended on September 2, this year.
The children's bodies were recovered on September 5 from the chambers at a complex within a house still under construction at Olkerian Street, Olasit Ward on the outskirts of the city. Peter was brought to Arusha on September 4 where police officers consequently interrogated him.
The suspect conceded to have kidnapped Ayub Fredy and Bakari Suleiman, both aged three years, but whom he later released.