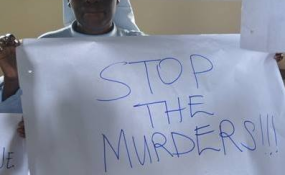 Photo: Uganda Women's Network
By Olive Eyotaru
Bits of the not-so-new details about the rampant killings of women in Wakiso district, provided by government yesterday, got tongues wagging and drew the anger of MPs.
Angry MPs harshly criticized government's handling of the fragile security, so far, in the wake of the 21 murders of young women and girls in Katabi town council, Nansana and Entebbe in the last three months.
Parliament on September 7 received a preliminary government report giving statistics and the status of the murder investigations.
The minister for Internal Affairs, Gen Jeje Odongo told the House, which resumed sittings yesterday, a day after suspending plenary sessions in protest at the lack of an official government explanation, that 44 murder suspects have been arrested and 22 charged in courts of law.
The government report found that majority of murders were by strangulation and insertion of sticks in the victims' private parts and three bodies of unidentified female victims are yet to be claimed.
Gen Odongo said according to preliminary investigations, majority of the murders in Nansana are linked to ritual sacrifice and businessmen, including Philips Tumuhimbise alias Kanyankore.
The prime suspect, one Ibrahim Kawesa, is said to have confessed to the killings. Odongo revealed that in the Katabi murders, technical evidence pointed to a serial killer identified as Ivan Katongole, a businessman, who kills for ritual purposes.
"Some suspects were found with forms given to them by Katongole to enlist in Illuminati. (Illuminati, according to one English dictionary, refers to a secret society of people claiming to possess special enlightenment or knowledge of something.)
Others have 999 (sign of Illuminati) tattooed on their bodies. Katongole is physically linked to the death of Rose Nakimuli because he was in her company the night she was killed," Odongo said, amidst murmurs from MPs.
The minister tried but failed to convince MPs that government can actually end the murders. They instead accused him of failing on the job and urged him to resign.
"Your ministry has failed to totally protect Ugandans including a prominent police commander [Andrew Felix Kaweesi]. What can you be proud of in your ministry? I think you should have written your resignation already," Jack Wamanga Wamai (Mbale municipality) said.
Monicah Amoding (Kumi Woman) said, "When this kind of murder happens, there is a message these killers are trying to send, which has not been put in this report...Isn't this a conflict that is brewing? How come from day one to now, they are murdering in the same manner and all this time the ministry and police have not been able to tell us who is behind it? Saying it is ritual murder is being simplistic. Are you in charge of the internal affairs of this country?"
Geoffrey Macho (Busia Municipality) said that with the huge police human resource, it is mindboggling that the institution has failed to establish the actual motive behind the murders.
"Something is wrong in the Internal Affairs docket and they are not in charge. You should put the department of police in order. How can they kill over 20 people and there is no report at all? You should tell Ugandans whether we are a failed state or not," Macho added.
Anthony Ssemuli (Mubende municipality) lambasted police for failing to release investigative reports into the recent murder of the former assistant IGP, Andrew Felix Kaweesi, whose murderers, he claimed, are still on the loose.
Odonga Otto (Aruu South) accused police of having an ineffective intelligence network, whose officers instead engage in petty fights in bars and nightclubs.
Some MPs argued that the disagreements between Security minister Lt Gen Henry Tumukunde and IGP Gen Kale Kayihura point to a big rift within the security circles.
Anna Adeke Ebaju (National Youth Female) said while the NRM government lauds its achievement in the security sector, the murders are an indictment on its ability to protect Ugandans.
In his maiden speech, Robert Kyagulanyi (Kyadondo East), asked police to expeditiously conclude the murder investigations. He said failure to apprehend murderers casts a huge shadow on their credibility.
Nabilah Naggayi (Kampala Woman) and Margaret Komuhangi (Nakasongola Woman) raised eyebrows over government's insistence on the murders being linked to witchcraft.
"Highlighting witchcraft in a government statement says a lot. It is absurd that the ministry can present a report that cites witchcraft. Is it scientific? We need to be worried," Nabilah said.
Prime Minister Dr Ruhakana Rugunda said government is on top of the situation. He lamented that backwardness and beliefs in witchcraft are still prevalent in different communities, hence the need to transform the country into modernity.