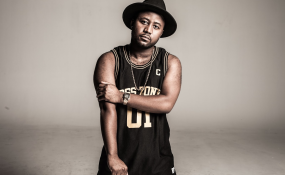 Photo: Cassper Nyovest/Instagram
South African rapper Cassper Nyovest is excited about his upcoming tour of Zimbabwe and has posted a video clip on social media announcing his anticipation.
Cassper Nyovest is set to perform in Bulawayo and Harare next week and he is looking forward to an eventful visit. On September 15 he performs at Large City Hall while on September 15 he comes to Glamis Arena in Harare for Impala Car Rental 10th Anniversary celebrations. In a video clip that he posted on social media on Tuesday, Cassper Nyovest expressed his excitement over the tour.
"Wats up Zimbabwe, it's Cassper Nyovest. I am coming there . . . on September 15 we are coming to Bulawayo and on the 16th we will be in Harare. It is the Impala 10th year celebration and we say tinotenda, thank you," said the musician. In Bulawayo he will be supported by several local artistes and organisers have promised a good show.
Organiser of the Bulawayo show Sikonjwa Babongile said the musician has a large fan base in Bulawayo and they wanted fans to have a good time with their musician.
"Cassper is very popular this side and we are looking forward to hosting the event," he said. Nyovest will be sharing with the Cal-Vin, Freeman, Soul Jah Love and other acts that include DJ Skaiva.
"The line-up is balanced because those are some of the musicians that have been performing well. We are calling upon the fans to come in their numbers and enjoy the music," said Babongile.
The musician's Harare performance will cap all-day celebrations to mark Impala Car Rental 10th anniversary. The first part of the event will be a sungura affair that will have various musicians performing between 10am and 6pm. The second slot will be headlined by Cassper Nyovest who will be supported by Jah Prayzah, Winky D and Soul Jah Love.
The Cassper Nyovest concert begins at 7pm and fans that will have attended the sungura event will enjoy the night gig without an extra cost. Tickets to the sungura gala will be going for $5 while entry to the Cassper Nyovest event is pegged at $10.
Sungura musicians to perform in the afternoon are Alick Macheso, Suluman Chimbetu, Peter Moyo, Romeo Gasa, Simon Mutambi, Lucky Kumene, Tatenda Pinjisi and Somandla Ndebele.
Traditional contemporary singer Sam Dondo and dancehall chanter Freeman will be guest performers at the sungura event. Besides Winky D, Soul Jah Love and Jah Prayzah, other local acts that are set to share the stage with Cassper Nyovest are Tehn Diamond, Junior Brow, T-Gonz and Stunner.