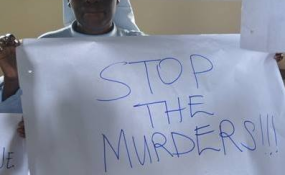 Photo: Uganda Women's Network
By Olive Eyotaru
A religious sect, Illuminati is behind the murders of several women in Entebbe and Nansana municipality in Wakiso district, the minister of Internal Affairs Jeje Odongo has said.
Over 20 women have been killed in the last four months, almost in similar pattern in Entebbe and Nansana. Some of the women according to earlier reports appeared to first have been raped and then sharp sticks inserted in their private parts.
While appearing before members of parliament today, Odongo said a businessman, Ivan Katongole facilitated the murder of the women in the belief that it would enhance his businesses including his commercial building under construction at Kasenyi landing site.
"There is strong evidence linking suspects and Katongole. Some suspects were found with forms given to them by Katongole to enlist in Illuminati. Others have 999 (sign of Illuminati) tattooed on their bodies. Katongole is physically linked to the death of Nakimuli Rose because he was in her company the night she was killed." he said.
Odongo said technical evidence as well witness testimonies point back to Katongole as the mastermind behind the killings. He said Katongole participated or contracted others to carry out the murders for ritual purposes, drawing human blood and cutting off body parts of the victims.
Odongo said 44 suspects have already been arrested of which 22 have already been charged in court.