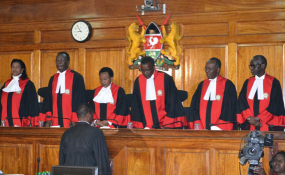 Photo: Capital FM
By Ibrahim Oruko
African judges have faulted President Uhuru Kenyatta's attacks on the Supreme Court, describing them unfortunate and could endanger judges.
Through the Conference of Constitutional Jurisdictions of Africa (CCJA) and the South African Judiciary, the judges expressed their solidarity with Chief Justice David Maraga and other four judges of the court.
They said the Supreme Court judges have come under heavy attacks from the President after they nullified the outcome of the August 8 election on grounds that it was conducted outside the provision of the constitutions.
JUDICIARY
Soon after the court annulled the vote, President Kenyatta addressed a public rally in Nairobi where he dismissed the judges as "crooks", pointed out that six people could not overturn the will of the people and declared there was a problem with the Judiciary which they, if re-elected, should be fixed.
"These widely televised and publicised remarks are most unfortunate, ill-advised and disturbing because of their potentially inciteful nature coming from the Head of State," the two institutions said in a statement signed by Mr Mogoeng Mogoeng, who is the Chief Justice of the Republic of South Africa and also the CCJA president.
Mr Mogoeng said the remarks were particularly dangerous because they were made in a tense electoral atmosphere.
JUSTICE
He said the remarks by the President could be intimidating and also expose the Kenyan Judiciary to danger.
"We celebrate their ethical conduct, unquestionable commitment to judicial independence and urge them never to betray their obligation to ensure that Kenya continues to function as a constitutional as opposed to a presidential democracy.
"They have discharged their constitutional mandate in the most exemplary way and should not only be commended but also emulated," Mr Mogoeng said.
The CCJA is an organisation which includes the African constitutional jurisdictions-- Constitutional Council, Court, Tribunal, Supreme Court, and Constitutional Chambers--with its headquarters in Algiers, Algeria.
AFRICAN UNION
The African Union (AU) in July 2010 adopted the decision to create a African Constitutional Justice space, at the initiative of Algeria.
The AU encouraged the establishment of the CCJA so that it could contribute to the realisation of the continental dream of ensuring that all elections are peaceful, free and fair, and that constitutionalism, human rights, the rule of law and judicial independence are promoted and observed.
"We hereby express our unwavering support to the Chief Justice and the Kenyan Judiciary for their commitment to uphold their oath of office which requires of them to act in terms of the Constitution and the law and without fear, favour and prejudice," Mr Mogoeng said in the statement.