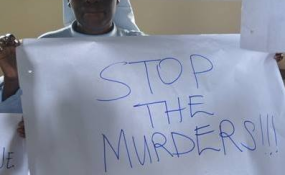 Photo: Uganda Women's Network
By Stephen Otage, Tom Malaba & Solomon Arinaitwe
Entebbe — Reports of postmortems done at the City Mortuary by police surgeons on some of the murdered women in Entebbe and Nansana areas has revealed by far the most graphic details of how they died and how many people could be involved in the murders.
Dr Moses Byaruhanga, the police director of Medical Services, told this newspaper that the nature of the bodies point to the fact that the women were tortured and that the twigs were inserted into their private parts prior to their deaths. This, according to him, suggests that more than one assailant pinned them to the ground for the other to then insert the twigs.
"It's not the work of an individual; it is the work of a well-organised group of people who are well facilitated with even a car to move the bodies," he said of the mysterious deaths that have pricked the conscience of the nation.
Sources in parallel security organs have suggested that the attackers are likely well-built men, who lie in wait for lone women whom they clinically strangle, without offering them opportunity to shout or struggle.
Assailants killing women in Katabi trading centre and Nansana municipality, both in Wakiso District, strike mostly between 1am to 5am and act with clinical precision and viciousness.
The ruthless manner of the killings notwithstanding, Dr Byrauhanga, himself a pathologist, said they found no evidence during autopsy procedures that the organs were removed from any of the women.
He explained that if it were the work of a ritual killer, there would be a cut preferably on the neck from where the attacker drains blood.
Other indications would include sliced ear or removed private parts and internal organs such as liver, heart and kidneys.
"It's not very easy to open up a body unless you are a professional and I do not see any medical personnel risking their career to do such a thing," Dr Byaruhanga said, further undercutting the theory that perhaps organ traffickers were sponsoring the killings.
Flowers in common
Our investigations show that the victims are mostly in their mid-20s, work or worked on nearby flower farms but had lived in the area for a few years, explaining why information about each is generally scanty.
Many either stayed alone or shared rented rooms and, except for two, the marriages of others had fallen apart.
Since May, this year, police have taken into custody three estranged husbands to help with investigations or face prosecution for murder.
Detectives, based on witness accounts, have posthumously identified some of the 20 women killed in Wakiso District alone over the past three months as former sex workers.
This prompted the police to engage sex workers in trading centres in Nansana and along Entebbe highway, offering cash and linking them for support under Operation Wealth Creation, the government's flagship poverty-reduction programme.
Whereas the motive of the killers has been difficult for investigators to establish, the consistency in the manner and places of crime and the exclusive targeting of women in whose private parts the assailants insert twigs should help professional detectives build a profile of the attacker(s).
Speaking on Radio One's Talk Back programme on Tuesday, the Police Spokesman Asan Kasingye admitted that the inquiries were "difficult", but progress has been made.
Members of Parliament during a sitting on Tuesday however scorned at the reported progress and indefinitely suspended proceedings after line ministers skipped the session in which they were to present a detailed government report on the killings, motive and masterminds.
"We have no business in this House until we get information on why our women are being killed," Aruu MP Odonga Otto said on Tuesday while moving an impromptu motion to adjourn Parliament on the day it resumed from recess.
The whole world, he said, wants to know why these women are dying. "Women are being killed every day and the police do not appear confident when communicating who is responsible for the killings," Mr Otto said.
Two-dozen suspects are in jail, including a Nansana businessman named by police as a ritual killer. There is however no explanation why more women are still being killed when the purported perpetrators are out of circulation.
"It is so saddening that we have not got the actual suspects," said State Minister for Primary Education Rosemary Seninde, also Wakiso District Woman MP.
The body of Maria Nabilawa, believed to be in her mid-twenties, was on Monday found lying between shrubs in Nyanama, off Entebbe highway. Police on Tuesday picked up her estranged husband from a shrine in Nakaseke District and detained him as a suspect.
Some of the killings are macabre, according to our investigations. Aisha Nakasindi, one of the victims, worked as a harvester on JP Cuttings flower farm.
The attackers plucked the nails, chopped off the breasts and lower legs by the time the body was retrieved in Kasenyi, Entebbe town, according to her husband Francis Bahati, a technician.
Entebbe town is a bustling Lake Victoria peninsular, and hosts the official residence of President Museveni, a United Nations base, Uganda's only international airport and a training school for the elite Special Forces.
As such, the municipality and its surrounding areas have enhanced security by motley state agencies; making it the more complex how the killers go undetected through a networked security and intelligence sieve.
With two of key possible leads seemingly unsupported with evidence, police and other security bodies remain in a dilemma. In the meantime, the Police have instructed flower farms to provide transport safe travel of their employees working on night shifts.
Investigations by this newspaper indicate that Abayita Ababiri and Kitala in Entebbe Municipality have over the past few years registered a significant jump in population, particularly the youth, due to increased employment opportunities there.
Those menial jobs are available at flower farms such as JP Cutting, Rosebud and Wagagai; on Entebbe expressway construction works; and, ongoing expansion works at Entebbe International Airport.
Wagagai Flower farm alone, for instance, employs 2,000 workers and 70 percent of them are young women working as "pot or cut flowers", according to the firm's human resource health and safety officer Charles Kibirango.
"When they (employees) leave, they bring their own people to replace them," he said.
Many of these jobs take unskilled, intermediate and skilled labourers, throwing wide the net of eligibility and diversity.
Besides, individuals who miss on the employment settle within proximity to provide auxiliary services resulting in, among other things, a boom in prostitution and narcotics business.
"Where new jobs are created," said Mr Ian Kyeyune, the Wakiso resident district commissioner, "young women have a tendency to move there to look for jobs and as well as target the money being earned by the young men working in those jobs. [When] the women fail to get jobs, the women end up into prostitution."
The work force and activity cocktail manifest in the diverse backgrounds of victims.
Up to 1,500 people are employed by JP Cuttings farm and they work in three shifts - 7am to 5pm, 7pm to 7am and 10pm to 7am.
Mr Anatoli Byabajera's wife Rose Nakimuli, a salon operator, was killed in Nkumba Central and buried in Nsanja Katosi Katengera in Mukono District.
The widower says his wife whom he introduced last year settled in Kitala in 1999 at the age of 18 when she went to work in the area as a housemaid.
He says she eventually got a job in a salon in the area where she saved money and opened her own salon which was ransacked three days after her killing.
There is no report of how far police inquiries into the killing have progressed.
Faith Komugisha, a scrap dealer, was killed in Kitubulu and buried in Bugerere in Kayunga district. Her elder sister Rebecca Masagazi the deceased, then aged 14, was lured to work in Abayita Ababiri by her peers. The deceased eventually found love in the heart of a fisherman with whom she begot four children before their marriage fell apart.
Rebecca says her late sister had lodged complaints with Police that her estranged husband, who was not even providing for the family, was harassing her and sometimes beat her up.
When she died, detectives arrested the accused.
Yet the Force's medical services director Byaruhanga said they extracted DNA samples from the victims' bodies during postmortem but that he is skeptical it would match samples to be obtained from assailants who lined up the women's private parts with soil.
Relatives have claimed all the bodies from City Mortuary for burial, except two of victims from Nansana and one from Kitabi. Twigs inserted into the private parts, police say, were either cassava stem or homestead fence materials.