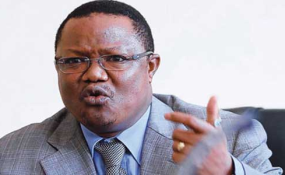 Photo: File photo/The Citizen
By Citizen Reporters
Dodoma — Opposition lawmaker Tundu Lissu was yesterday shot and seriously wounded by unknown assailants as he arrived at his Dodoma home after attending Parliament's morning session.
The Singida East MP was shot as he was about to disembark from his car in the municipality's leafy Area D suburb.
His attackers sprayed the front passenger door of his black Toyota Land Cruiser with bullets after Mr Lissu apparently hesitated to alight from the vehicle.
This reporter counted at least 18 bullet holes on the door and its closed window. There were also bullet holes on the rear door and one of the tyres was shot out.
Thinking that they had killed the lawmakers, the gunmen, who were in a car with heavily tinted windows, sped away from the scene.
The MP was rushed to Dodoma Regional Hospital, where he was immediately wheeled into the theatre for surgery to remove bullets lodged in his body.
News of the attempt on Mr Lissu's life broke at around 2pm and sent the sleepy capital into a frenzy, with hundreds of people thronging the regional hospital.
Health minister Ummy Mwalimu told reporters Mr Lissu was by 5pm still being operated on by a team of surgeons, who included the ministry's permanent secretary, Dr Mpoki Ulisubisya. Ms Mwalimu said that Mr Lissu would be transferred to Muhimbili National Hospital in Dar es Salaam for specialised treatmen.
Police, doctors speak out
The Dodoma Regional Medical Officer, Dr James Charles, said Mr Lissu, who is also president of the Tanganyika Law Society, was shot several times in the abdomen and leg.
Briefing reporters in a joint press conference with the police and Dodoma regional authorities, Dr Charles said a team of medical experts had been assembled to operate on Mr Lissu.
"He is in a stable condition. We will issue further updates in due course," he said.
Dodoma Regional Commissioner Jordan Rugimbana banned unathorised gatherings in the municipality.
"We also don't want crowds to assemble at or near the hospital because the area is too small to accommodate many people," he said.
"People should stay calm and go about their normal activities. We will inform them if there are any new developments."
Dodoma Regional Police Commander Gilles Muroto said preliminary investigations had established that the gunmen who shot Mr Lissu were in a white Nissan car and appealed to the public to volunteer information.
"We welcome people to volunteer information that will help us track down the attackers," he said.
Attackers trailed Lissu's vehicle
Mr Lissu left parliament grounds at around 1pm with his driver, according to Rombo MP Joseph Selasini. Shortly after entering the main road, the driver noticed a white Nissan minivan trailing them.
He alerted his boss, but continued driving until they arrived at the lawmaker's residence.
"The assailants followed Lissu to his home. They stopped a few metres from Lissu's car after it had stopped. They waited for Lissu to come out. When he didn't, they opened one of the windows of their car and shot one of the front tyres of Lissu's car. They then sprayed the front passenger door with bullets because they knew that was where Lissu was seated. They then sped away," said Mr Selasini, quoting the MP's driver.
Chadema, CCM, Magufuli react
Meanwhile, Chadema yesterday issued a statement condemning the attack.
"Chadema has received reports of the shooting of the party's chief legal adviser with shock and dismay. We are closely monitoring his condition," the party said.
The ruling CCM also condemned the shooting and called for speedy investigations into the matter.
President John Magufuli also said in a 6pm tweet that he wished Mr Lissu quick recovery and directed security agencies to stop at nothing to arrest the culprits and bring them to justice.