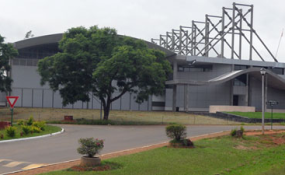 Photo: Uniswa
The University of Swaziland (UNISWA) has been closed once again after students and police clashed on Thursday (7 September 2017).
Students had boycotted classes in protest against unpaid book allowances, high prices and low quality of food in the university refectories, lack of decent accommodation and unpaid scholarships.
UNISWA, which is the main university in the kingdom has King Mswati III as its Chancellor. He is also sub-Saharan Africa's last absolute monarch. Students in Swaziland have engaged in protests for many years in an attempt to improve the standard of their education.
The Times of Swaziland, the only independent daily newspaper in the kingdom, reported that students had informed the university's administration of the intended boycott and asked that police not be called to the university, 'because their presence usually resulted in a chaotic encounter between the two'.
The Times reported, 'about 20 uniformed but unarmed police officers were deployed to the institution, something which did not go down well with students who then gathered stones around the campus in preparation for a fight.
'It was gathered that because the first troop of police officers was harmless, the class boycott went ahead as planned but later on, the students saw heavily armed officers from the Operational Support Service Unit (OSSU) parking their armoured trucks and Casspirs inside the campus premises.'
This resulted in a confrontation between police and students, the newspaper reported. Police used batons and students stones, it added.
This is not the first time police have entered UNISWA. In May 2017 police patrolled the Luyengo campus at examination time because students protested against alleged victimisation by a lecturer.
In February 2017 police fired warning gunshots as students protested about late payment of their allowances. It happened after UNISWA students tried to march with a petition to the Ministry of Labour and Social Security, following a meeting on the Kwaluseni campus.
In February 2016, Swazi security forces attacked students at the UNISWA Kwaluseni campus by driving an armoured troop carrier at speed into a crowd, injuring one so badly her back was broken. Students had been protesting and boycotting classes to protest about delays in registration.
The assault was one of many violent attacks on university students by police and security forces dating back a number of years.
In November 2013, police raided dormitories and dragged students from their rooms. Later they beat up the students at local police stations. Students had wanted the start of examinations postponed. Armed police stood guard outside examination halls as the UNISWA Administration attempted to hold the exams.
In August 2012, two students were shot in the head at close range with rubber bullets, during a dispute about the number of scholarships awarded by the government. Reports from the Centre for Human Rights and Development, Swaziland said several other students were injured by police batons and kicks.
In February 2012, police fired teargas at students from Swaziland College of Technology (SCOT) who boycotted classes after the Swazi Government did not pay them their allowances.
In November 2011, armed police attacked students at the recently-opened private Limkokwing University. The Swazi Observer said Limkokwing students reported that police 'attacked them unprovoked as they were not armed'.
The newspaper added, 'During a visit to the institution about 10 armed officers were found standing guard by the gate'. The Observer said police fired as they tried to disperse the students.
In January 2010, Swaziland Police reportedly fired bullets at protesting university students, injuring two of them. They denied it and said they 'only' fired teargas. Students from UNISWA had attempted to march through the kingdom's capital, Mbabane, to call for an increase in their allowances.