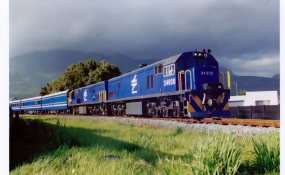 Photo: Bob Williams/Flickr
analysis
Transnet has suspended the principal of its Durban-based Maritime School of Excellence amid student complaints that their training was mismanaged and "chaotic". By Zanele Mji for AMABHUNGANE.
Transnet spokesperson Molwalane Likhethe declined to comment on the suspension of school head Herschel-Michael Maasdorp, but confirmed that a disciplinary inquiry "involving ... implicated officials" was under way following an official investigation.
He refused to release the report of the investigation, saying that "matters between Transnet and its employees are confidential and cannot be discussed with external parties".
AmaBhungane recently spoke to two students of the maritime school, who said Maasdorp sent students a text message in June that stated: "Kindly refer your questions to [training facilitator] Captain Sanks and [acting senior manager of port services] Thamsanqa Basi. I have been suspended [from the maritime school] due to the complaints from ... learners."
Maasdorp declined to comment this week, saying Transnet had forbidden him from commenting on anything relating to the school.
The school's financial manager, Anand Govender, confirmed that he too was suspended this year before he resigned in June.
Govender said that according to Transnet, he was suspended on the grounds that he had not followed processes, but that it had...