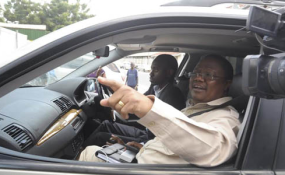 Photo: The Citizen
By The Citizen Reporter News@thecitizen.co.tz
Dodoma — The attack on Singida East MP Tundu Lissu has jolted the Parliament into action, with Speaker of the National Assembly Job Ndugai urging the Parliamentary Foreign Affairs, Security and Defence Committee to meet immediately to deliberate on security issues in the country. A few minutes before he told the committee to meet, Mr Ndugai in sombre mood talked about the fact that the shooting of Mr Lissu, who is also the president of the Tanganyika Law Society, was the first of its kind to an MP during the sessions.
"This is the first time an MP is shot in broad daylight, when the Parliament is in session," Mr Ndugai said. His directive to the parliamentary committee followed concerns raised by Nzega Urban MP Hussein Bashe (CCM) over the deteriorating security situation in the country.
Mr Bashe sough Speaker's guidance on what the Parliament was going to do about it. Giving the guidance, Mr Ndugai urged the committee to meet with security organs and come up with a complete report on the state of security in the country.
Mr Bashe also cited incidents of the disappearance of Chadema's leader, Mr Ben Saanane, abduction of Bongo Flava artist Roma Mkatoliki and threats to former Minister for Information, Culture, Art and Sports Nape Nnauye, whose investigation reports are not out.
Mr Bashe wondered why the person, who pulled a pistol to threaten Mr Nnauye had not been arrested.
"Yesterday, our colleague Tundu Lissu was shot," he said adding: "This trend is sending a bad image about our country and we feel unsafe every time we move around."
Meanwhile, Mr Ndugai yesterday revealed that the family of Mr Lissu and Chadema's leadership refused medical arrangements made by the Parliament for the wounded outspoken MP. The Parliament had earlier made arrangements to transfer Mr Lissu to the Muhimbili National Hospital, but his family and Chadema leadership opted for the Aga Khan Hospital in Nairobi.
"They told us that they chose Aga Khan not because they do not have faith in our hospitals, but that they will be more comfortable there. We respect their choice of Aga Khan Hospital in Nairobi," Mr Ndugai said.
The Speaker further said about Sh43 million will be contributed by MPs from their allowances for Lissu's treatment.