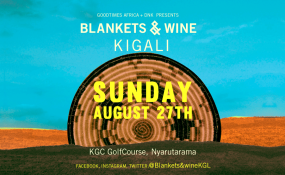 Photo: Blankets & Wine Kigali
By Jefferson Rumanyika
Blankets & Wine held its first Kigali edition on August 27, at the Kigali Golf Club.
The golf course made for the perfect venue overlooking Kigali's bright night lights, and is far enough out of the city not to disturb residents with loud music.
Soulful South-African based Congolese-born musician Tresor was the headline performer.
Scheduled to start at 12pm, the event began on time with vendors selling food, clothes and drinks. Many revellers carried their own food and drink. The performances started at 6pm. Tickets were retailing at Rwf25,000 ($30) at the gate. About 1,000 people attended the event.
"We were amazed by the number of people who turned up, and we plan to set the bar higher with the second edition this December," said Muthoni Ndonga, the organiser of Blankets & Wine.
Kiki kicked off the event, followed by Citi True, Methuselah, Mike Kayihura and Angel Mutoni as curtain raisers.
Bruce Melodie had people singing along to his hit song, Ikinya and his latest single, Ntidukina. He was followed by Weya & Lilian Mbabazi, with his Sundowners band.
Mbabazi performed songs from her Ugandan pop girl group Blu3, as well as her latest single Ndabivuze off her upcoming Kinyarwanda album. Mbabazi came as a guest performer in her capacity as the Blankets & Wine official ambassador in Kampala, and she did not disappoint.
Tresor from South Africa was the last to take the stage. He wowed the audience with his songs from his latest album, The Beautiful Madness, accompanied by the electric guitar, trumpet and saxophone from his live band.
Tresor spent some time in Rwanda in the past with his parents, and this is where he recorded his first music demos as an upcoming musician.
"I think Blankets & Wine has set the bar high for its first edition. I will be looking forward to the second edition and hopefully get more friends to tag along for the subsequent events," said Ange Akaliza, a reveller.
Other activities that featured at the festival were the silent disco, table tennis, a bouncy castle for children, and an art exhibition with a live art painting by Naddy Adhiambo from Kenya.
The event ended just before 10pm, with an after party at the nearby Chillax Lounge.