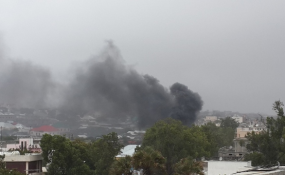 Photo: Dalsan Radio
At least 6 people died on Sunday after a suicide bomber blew himself up in a restaurant just outside a senior official's office in the central Somali city of Beledweyne, police and residents said.
The al Qaida-linked al Shabaab group said it was behind the attack.
"At least six people died and several others were wounded. A suicide bomber blew up himself in a restaurant," major Hussein Osman, a police officer told Reuters from Beledweyne.
The Sunday afternoon blast took place outside the office of the governor of the Hiran region, where he was holding a meeting, police and residents said.
"We are behind the attack at the Hiran governor's headquarters. There are casualties. We targeted the workers of the Hiran administration," said Abdiasis Abu Musab, al Shabaab's military operation spokesman.
Beledweyne is about 340 km north of Mogadishu.