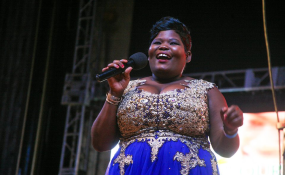 Photo: Bustop TV
Popular comedian Samantha "Gonyeti" Kureya and her Bus Stop TV Crew were Saturday chased away from the Mashonaland Central Presidential youth interface rally by rowdy Zanu PF youths who allegedly took some media equipment from them.
In an interview with New Zimbabwe, one of the crew members Lucky Aaron admitted that his group was turned away from the rally by the Zanu PF youths adding they took away from them their press cards.
"Yes they asked us to leave the event and we complied but, they took our equipment," Aaron told New Zimbabwe.
Efforts to get further information on why they were chased away were fruitless as Aaron's phone went off during the interview with this reporter.
The incident follows the crew's video which went viral on social media two weeks ago exposing Zanu PF forcing people to its gatherings.
The video was recorded by Gonyeti during the Grace Mugabe solidarity rally at the Zanu PF headquarters where some members of the ruling party displayed ignorance on the reasons for coming to the Harare solidarity rally.
The Zanu PF HQ rally was meant to support Grace Mugabe after her shameful behaviour in South Africa where she allegedly attacked a 20-year old model Gabriella Angels at a South African hotel room in Sandton, Johannesburg.
Grace Mugabe's ignorant supporters, with some coming all the way from Masvingo, apparently held placards which read: "Masvingo says Engels is not an Engel".