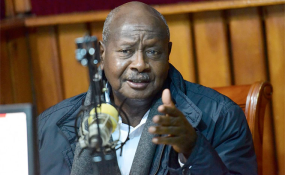 Photo: The Observer
By Sadab Kitatta Kaaya & Olive Eyotaru
President Museveni's countrywide campaign to sensitize the public on the proposed constitutional amendment on land is gathering steam upcountry but all is not well among the upcountry broadcasters.
As some radio stations cash in for hosting him for talk shows, others are carrying his address at no cost. The president launched his radio campaign on September 4 with an appearance on the Kabale-based Voice of Kigezi before moving to Radio West in Mbarara the following day.
He has also had appearances on Voice of Tooro in Fort Portal and Spice FM in Hoima and appeared on Masaka's Radio Buddu yesterday.
According to some radio managers that spoke to The Observer, State House pays radio stations that host the president on his two-hour talk show.
Wherever he has been, all radios operating in that particular region have had to suspend their normal programming and rebroadcast the president's address from their competitor's studio.
This came to light on Monday when FDC president Maj Gen Mugisha Muntu was blocked from appearing on a talk show hosted by Hope FM in Kabale.
Muntu had booked airtime on the radio but was turned away by the police and officials from Uganda Communications Commission (UCC), who directed Hope FM's management to instead switch on Voice of Kigezi and relay Museveni's address.
On Saturday, Godfrey Mutabazi, the UCC executive director, said the radios are under obligation to rebroadcast any issue of national importance.
"It is a licensing condition that once there is an issue of national importance, [the broadcasters] are obliged to rebroadcast it," he said. "This is not a political campaign but a matter of policy. The president is explaining issues pertaining to land and the radio stations should be aware that matters of national importance supersede any commercial interests," he added.
Mutabazi spoke in response to complaints of inconvenience from some radios that have had to reschedule their advertisers' messages to accommodate the presidential address.
When contacted, Don Innocent Wanyama, the senior presidential press secretary, denied radios are being compelled to relay Museveni's land campaign. Instead, Wanyama said, the stations are eager to broadcast Museveni's address.
"We have not forced any radio to rebroadcast the president's address; it is instead the radios that are [fighting] to host him because they have found hosting the president news worthy," he said.
Asked how competing radio stations benefit from relaying a signal that promotes business rivals, Wanyama said: "We have asked the moderators at [the host] radios to recognize those other radios that rebroadcast the president's message."
CONFUSION
After Museveni's Thursday night appearance on Spice FM, Wanyama posted on his Facebook page announcing a temporary suspension of the land education campaign through radio.
"To our people in Mubende (Point FM), Masaka (Radio Buddu), Kampala and Jinja (Baba FM) who were anticipating to hear from the president on Friday, Saturday, Sunday and Monday respectively, be notified that the shows have been postponed because the president's schedule has changed. New dates will be communicated," he stated.
Within hours, Wanyama's communication was rendered a false alarm when Point FM, owned by Lwemiyaga MP Theodore Ssekikubo, hosted President Museveni on Saturday evening.