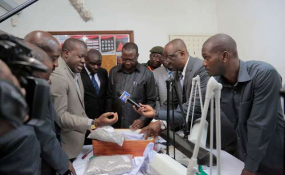 Photo: Daily News
By Gadiosa Lamtey
Dar es Salaam — The government yesterday revealed that the value of 71,840 carats (14.3 kilos) of smuggled diamond that was seized last month at the Julius Nyerere International Airport (JNIA) stood at $29.5 million (about Sh65.7 billion) and not $14.7 million as declared by Petra Diamonds.
The diamond was impounded at the airport on August 31 while en route from Mwadui Diamond Mine to Belgium.
Speaking yesterday after receiving the report on behalf of the President John Magufuli, the Minister for Finance and Planning, Dr Philip Mpango, ordered the confiscation of the gemstones for violations of the East African Customs Management Act of 2004, section 210, subsection G.
The law reads in part: "In addition to any other circumstances in which goods are liable to forfeiture under this Act, the following goods shall be liable to forfeiture ... any goods in respect of which, in any matter relating to the Customs, any entry, declaration, certificate, application or other document, answer, statement or representation, which is knowingly false or knowingly incorrect in any particular has been delivered, made or produced."
"I am told that the under declared diamonds were impounded five minutes before the aircraft left the airport. We would have lost more than Sh2.2 billion in royalty," Dr Mpango noted.
He further said that about 230,000 carats of diamonds are transported via JNIA annually.
Dr Mpango said it was disappointing that despite the government owning 25 per cent of Petra Diamonds Tanzania Limited it receives zero dividends.
"This is unacceptable," Dr Mpango said.
"I want all security organs to investigate thoroughly the whole production and transport chain and identify all those government officials who have failed to perform their duties causing such losses to the government," he noted.