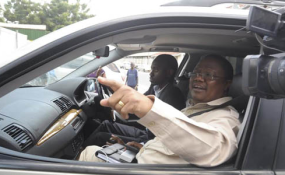 Photo: The Citizen
By Ephrahim Bahemu
Dar es Salaam — Chadema Youth wing (Bavicha) on Saturday September 9, demanded an independent investigation into cases of insecurity in the county, including the latest assassination attempt on their party chief legal counsel, Mr Tundu Lissu who was shot and wounded in Dodoma on Thursday, September 7.
Bavicha asked the government to launch an independent inquiry into incidents that have become a threat to peace in the country.
Bavicha Chairman, Mr Patrobas Katambi, told reporters at a press conference in Dar es Salaam that the inquiry team should have Chadema representation, because many of the opposition party leaders have become targets of attacks.
"We know many incidents where people have been attacked, threatened or wounded but security organs have always blamed them on unknown assailants. This actually tells us that the government is using so-called unknown attackers as an excuse," he said.
He suggested that President Dr John Magufuli must allow an independent foreign body undertake the inquiry.
"It is time decisive action is taken as believe that the so-called unknown people will continue harming many people inj the country," he added.
He said the Chadema youth were ready to cooperate with the security organs in search for the assailants who have been causing insecurity in the country.
"Elsewhere, no one gets away when he breaches peace, it happens only here in Tanzania," he said.
He said it was amazing how Lissu was attacked in broad daylight in areas which is ntightly guarded.
"Lissu's home in Dodoma is located behind the speaker's residence. There is tight security. I wonder how people managed to attack Mr Lissu and run away," he added.
He recalled that Bavicha had already submitted a letter dated August 24, this year to the Inspector General of Police (IGP) Simon Sirro, expressing their concerns about security threats that Mr Tundu Lissu was facing.