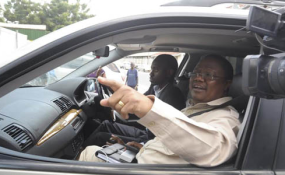 Photo: The Citizen
By Alawi Masare
Dodoma — Police have seized eight vehicles in relation to shooting of the Singida East Member of Parliament Tundu Lissu.
Regional Police Commander Mr Gilles Muroto said yesterday that the Police and the Tanzania Revenue Authority (TRA), which is responsible for motor vehicle registration in the country, have launched a joint investigation to try and find the owner of the vehicle used during the shooting of Mr Lissu.
The firebrand lawmaker was shot on Thursday afternoon outside his Area D home by unknown attackers who allegedly used a white Nissan Patrol. He is still recuperating at the Aga Khan Hospital in Nairobi where he was evacuated for special medical attention.
Mr Muroto yesterday also asked Mr Lissu's driver, identified by one name a Adam, to appear to the police to help with the investigations.
"Preliminary investigations have shown that the attackers used SMG/SAR weapons due to the type of bullet shells found at the scene of the incident. Our investigations are ongoing in collaboration with the team from the Police Headquarters," said Mr Muroto.
"We need the driver to record his statement on the incident and he should report at the police here in Dodoma or at the headquarters in Dar es Salaam. Hiding himself is a criminal offence and if there are people hiding him they should also know that they are committing a crime. He should appear immediately as he's an important witness," he added.
Muroto also said Chadema Secretary General Dr Vicent Mshinji has also been ordered to report at the Regional Crimes Officer (RCO) either in Dar es Salaam or Dodoma for questioning in connection with remarks he made on Friday that indicated that Chadema had identified the assailants.
Warns social media
Mr Muroto warned social media users to avoid posting 'bad taste' comments in connection with the incident saying they could find themselves in trouble.
Calls mount for special investigation
Meanwhile ACT party leader Zitto Kabwe and Chadema Youth wing (Bavicha) yesterday called for an independent international investigation into the assassination attempt on the Opposition Chief Whip.
Mr Kabwe posted on his official Twitter account on Friday night expressing his lack of trust for local investigators. "Local organs shall not be trusted," reads his post in part.
But Bavicha chairman Patrobas Katambi said an independent investigation should not limit itself to Lissu's case but to all cases of insecurity in the country.
Mr Katambi, told reporters at a press conference in Dar es Salaam yesterday that the inquiry team should have Chadema representation, because many of the party's leaders have become targets.
"We know many incidents where people have been attacked, threatened or wounded but security organs have always blamed them on unknown assailants. This actually tells us that the government is using so-called unknown attackers as an excuse," he said.
He suggested that President Dr John Magufuli must allow an independent foreign body undertake the inquiry.
He said they were ready to cooperate with the security organs in search for the assailants who have been causing insecurity in the country.
He added it was surprising how Lissu was attacked in broad daylight in areas which are highly guarded due to the high profile nature of people living there.
"Lissu's home in Dodoma is located behind Speaker of the National Assembly's residence. There is tight security. How could the assailants escape unnoticed?" he queried.
He recalled that Bavicha had already submitted a letter dated August 24, this year to the Inspector General of Police (IGP) Simon Sirro, expressing their concerns about security threats that Mr Tundu Lissu was receiving.