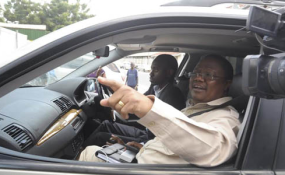 Photo: The Citizen
By John Namkwahe
Dar es Salaam — Bishop Josephat Gwajima of the Glory of Christ Church has led hundreds of followers to pray for quick recovery of Singida East Member of Parliament, Mr Tundu Lissu, who was fataklly shot in Dodoma last Thursday.
During the service the church choir sang special song for Mr Lissu, who is currently undergoing treatment at a Nairobi hospital.
Mr Gwajima urged Tanzanians to pray for Mr Lissu because what happened to him is a bad sign to the country.
The firebrand lawmaker was shot on Thursday afternoon outside his Area D home by unknown attackers who allegedly used a white Nissan Patrol. He is still recuperating at the Aga Khan Hospital in Nairobi where he was evacuated for special medical attention.
Bishop Gwajima also condemned brutal killings, which have been taking place in Kibiti, Mkuranga and Rufiji.