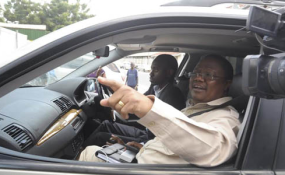 Photo: The Citizen
By Citizen Reporters
Dar es Salaam — The shooting of opposition lawmaker Tundu Lissu took centre stage yesterday with several clergymen leading their congregations in praying for his quick recovery.
The clerics urged the government to conduct through investigations and ensure that the perpetrators were arrested and brought to justice.
The Evangelical Lutheran Church in Tanzania Presiding Bishop, Dr Fredrick Shoo, said it was time the government acted decisively to make sure that no such incident occurred again.
"I'm deeply saddened by the incident. We should condemn the attack in the strongest terms possible. The authorities should make sure that such an incident doesn't happen again," he said and wished Mr Lissu quick recovery.
The sentiments were echoed by Bishop Josephat Gwajima of the Glory of Christ Church as he led hundreds of followers in praying for Mr Lissu's swift recovery.
Bishop Gwajima urged Tanzanians to pray for Mr Lissu, saying what happened in Dodoma last Thursday was a "bad omen".
He also condemned the recently string of killings in some parts of Coast Region.
The service was also attended by, among others, Ubungo MP Saed Kubenea and Mr Lissu's younger brother, Mr Vincent Lissu.
Bishop Gwajima is today expected to travel to Nairobi where he will visit Mr Lissu in hospital.
Retired bishop of the Free Pentecostal Church of Tanzania (FPCT) Paulo Samuel urged Tanzanians to maintain peace as police investigated the attack. He said whoever was behind the attack wanted to sow discord and fear among Tanzanians, adding that he hoped the MP would recover fully as soon as possible.
"We pray that he will soon be reunited with his family and that he will come back even stronger and more energetic," Dr Samuel said.
Meanwhile, CCM's youth wing, UVCCM and the Alliance for Democratic Change (ADC ) condemned the attack.
UVCCM secretary Shaka Hamidu Shaka said yesterday that the public should remain calm as security agencies investigated the shooting.
"This is not the time to start pointing accusing fingers at one another. Let's leave the security agencies to do their job," he said.
Police said on Saturday that they had seized eight vehicles after the Singida East MP was shot outside his residence in Area D in Dodoma.
Dodoma Regional Police Commander Gilles Muroto said the vehicles were seized as part of a widening investigation into the shooting.
Mr Muroto also summoned Chadema secretary-general Vincent Mashinji and Mr Lissu's driver for questioning. Eyewitnesses said Mr Lissu's attackers trailed him in a white Nissan vehicle from Parliament to his residence, where they sprayed his Toyota Land Cruiser with bullets before speeding away from the scene.
Mr Lissu was taken to Dodoma Regional Hospital where he underwent an emergency operation before he was flown to Nairobi for further treatment.
Reported by John Namkwahe, Gaspar Andrew, Beatrice Moses and Daniel Mjema