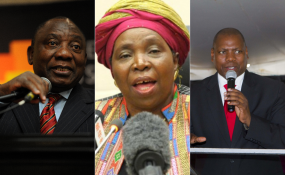 Photo: allafrica.com
analysis
Parliament is a political institution where not only broader dynamics of South Africa's body politic play out, but also the factional power-plays of the governing ANC. And that political character, rather than its legislative or oversight mandate, is again front and centre with the arrival of Nkosazana Dlamini-Zuma, the former AU Commission Chairperson and ANC presidential hopeful, alongside Matthew Wolmarans, the ex-Rustenburg mayor whose 2012 murder conviction was overturned and set aside three years ago. By MARIANNE MERTEN.
Nkosazana Dlamini-Zuma's return to Parliament has fuelled speculation that she's headed for a ministerial post in yet another Cabinet reshuffle, word of which hit the grapevine last month after the no confidence motion that was defeated by a narrowing margin compared to the previous ones. As the contest for the ANC top post heats up, the argument in some circles is that a Cabinet post for Dlamini-Zuma, previously minister of health, home affairs and foreign affairs between 1994 and 2012, would strengthen her standing come the party's December elective national conference.
But for that to happen she must be an ANC MP as President Jacob Zuma has already appointed the maximum constitutionally allowed two Cabinet ministers without a parliamentary seat - Water...