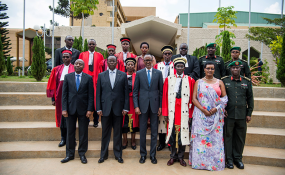 Photo: New Times
By Athan Tashobya
President Paul Kagame has urged judicial officers to focus more on the results of their business, as this carries great implications to the people, the economy of the country and its pursuit for transformation.
While presiding over the launch of the Judicial Year 2017/18 at Parliament yesterday, President Kagame said the entire judicial process should not be looked at as an event or even be perceived as a procedure but rather a serious undertaking that ensures the country is governed by the rule of law.
The ceremony was attended by senior officers from civilian and military courts as well as high ranking government officials and members of the diplomatic corps.
"When Judiciary becomes just a procedure," Kagame said, "the end results are negative consequences which affect progress of the people and the nation at large."
Kagame reminded judicial sector players that Rwandans deserve a fair justice system that they can trust, telling the officers that they carry an important responsibility in ensuring that people's rights are protected.
"People need free, fair and timely justice," Kagame said, calling on the judicial sector players to always expedite the judicial process to avoid creating a backlog of court cases.
"Judiciary is the supreme power of the citizens. You, therefore, carry an important responsibility to ensure that people's safety and security is guaranteed through the powers vested in you," he said.
The Head of State noted that, as Rwanda continues to forge its transformational pathway, the judicial sector's contribution towards this goal is crucial.
"In this continuous fight to develop and transform this nation, your role as the judiciary is essential. We have talked about Ubudasa (uniqueness) in a way we operate and we expect the same from you (members of judiciary) just as much as we expect this from everyone else," he added.
President Kagame also noted that the fight against corruption shouldn't only focus on the ordinary people but should begin by holding senior leaders accountable.
Chief Justice Sam Rugege said there are efforts to continue to fight all forms of corruption within the judiciary and to espouse transparency in the delivery of justice, saying that this year alone, six judicial officers were held accountable for their involvement in corruption.
Prof. Rugege urged the Government to consider revising judicial salary structure, as the economy evolves. He noted that the Judiciary has established a fund to improve social wellbeing of its members.
Leaders sworn-in
Meanwhile, preceding the opening of the Judicial Year, three cabinet members, who were recently appointed but did not take part in the previous swearing-in ceremony, were also sworn-in.
Those that took the oath are; Jean Philbert Nsengimana, the minister for ICT; Amb. Claver Gatete, the minister for finance and economic planning; and former Rwandan Ambassador to Belgium, Olivier Nduhungirehe, who is now the state minister in the Ministry of Foreign Affairs, Regional Cooperation and EAC Affairs.
Also sworn in was the outgoing Prime Minister, Anastase Murekezi who was appointed Chief Ombudsman, and two new members of parliament Jean Damascène Murara and Marie Pélagie Uwamariya Rutijanwa.
The new legislators replaced Jean Marie Vianney Gatabazi, who was appointed Governor of Northern Province, and Edouard Bamporiki, the new Chairman of the National Itorero Commission.
Minister Nsengimana said that he will work towards promoting emerging technologies that are not mainstream in Rwanda and elsewhere across the world, such as drone and virtual reality technologies among others.
"We simply have to finish the unfinished business, especially ensuring universal internet coverage and mobile connectivity. We will work to make ICT the big engine of our exports through growth and innovation," Nsengima said, adding that collaboration is vital in this regard.
Minister Nduhungirehe said that he will work with his Minister Louise Mushikiwabo in promoting good relations and regional integration that would improve wealth creation in Rwanda.
"Attracting foreign investment and engaging members of Rwandan communities abroad will go a long way in creating wealth in our country. Diaspora's remittances are very important for our economy as much as foreign investment," said Nduhungirehe.