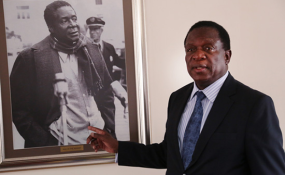 Photo: The Herald
President Robert Mugabe says Vice President Emmerson Mnangagwa has prepared an 85 page document to counter Higher and Tertiary Education Minister Jonathan Moyo's coup claims but remains too frail to present it before a party politburo meeting.
This follows Moyo's presentation of a 72 minute video to the politburo July this year reinforcing claims Mnangagwa was indeed plotting to unseat President Mugabe.
The video, among other things, is an elaborate account of how Mnangagwa has manipulated - or at least attempted to - state institutions and the media to position himself for takeover.
This, according to the video, includes the VP sending proxies such as war veterans and expelled Zanu PF youths to pass derogatory remarks about the first couple while demanding President Mugabe's exit.
The under fire VP was, likewise, granted the right of reply which he intends to present in the form of an 85 page document yet to be presented before the politburo.
But his greatest undoing has been a weak frame battered by weeks of poison induced ailment which he can hardly support for 15 minutes, according to President Mugabe.
"Mnangagwa said 'fine I will respond to him (Moyo)'. He has since finished. He has some 85 pages of reply.
"But because of his illness, he can only stand while talking for perhaps not 15 minutes or so. But once he recovers he will reply to him," President Mugabe said while addressing party followers who thronged his Mashonaland Central youth interface rallyin Bindura last Saturday.
Mnangagwa was taken ill last month suffering severe diarrhoea and vomiting after he had reportedly taken poisoned food while attending President Mugabe's youth interface rally in Gwanda.
He was later flown to South African hospitals to receive further treatment.
Despite government claims of his recovery, Mnangagwa returned home a week later looking wasted.
By his own admission, he almost died of the ordeal, comments President Mugabe buttressed by telling a Zanu PF crowd in Gweru recently that his deputy lost a lot of blood and passed out as a result.
Meanwhile, his fanatics have escalated conspiracy theories linking their idol with an assassination plot by Zanu PF rivals, the first couple included.
Despite spirited denials by those fingered in the assassination plot, nothing in the contrary has been put to public domain.
Zimbabwe's number 2 has riled the first family by showing too much ambition to succeed President Mugabe, who clings on at a ripe age of 93.
His case has not been helped by a spirited effort by ally turned bitter foe, Moyo who has pulled all the stops to pin coup allegations against him.