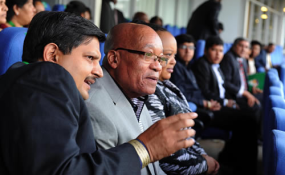 Photo: The Presidency
analysis
By Iraj Abedian
SA business leaders and company directors have come face to face with a critical ethical decision. Should they part ways with KPMG or not? The fact that a major business corporation such as KPMG has become complicit in the machinery of corruption is a golden opportunity for the business sector and company directors to reveal their own ethical values.

On Thursday 7 September, 2017, I resigned as a non-executive director of Munich Re of Africa over KPMG as their external auditors. This followed nearly three months of serious engagements within the board with KPMG's high-level representation. Directorship of companies, be they public or private, is a serious responsibility. From the perspective of the governance of societal resources, both in the public and private sectors, external auditors play a critical role in ensuring good governance and compliance with ethical codes such as truthful or facts-based reporting, integrity, reliability and transparency. So external auditors and their reputation matter beyond measure.
Ever since the advent of the #GuptLeaks, and a growing body of evidence implicating KPGM, Bell Pottinger, McKinsey and SAP, it has become clear that corruption is not confined to the public sector, political leaders and the executives of...