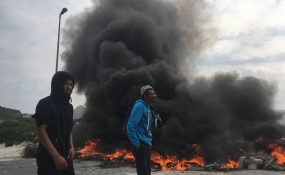 Photo: Kimon de Greef/GroundUp
Furniture was dragged from Hout Bay's famous Mariner's Wharf restaurant on Tuesday and set alight to form a burning barricade during a fishing quota protest in the popular Cape Town suburb.
"We were quite shocked because we are not involved in the cause [of the protest]," said Shaun Bloch, marketing manager for the restaurant which draws thousands of tourists and locals. He explained that as the protest became more volatile a group of people started stoning the businesses nearby. They then dragged the restaurant's outdoor tables away and set them alight on Harbour Road, blocking traffic.
Police spokesperson Captain FC Van Wyk said some of the protesters who had blocked the road with the furniture were thought to be from nearby Hangberg.
Harbour Road was closed to traffic from the harbour entrance, and access to Hangberg was cut off.
Van Wyk said a flare was set off in the direction of officers on the scene, and one officer was injured.
A 14-year-old boy was also allegedly hit with a rubber bullet as police tried to calm the situation.
City of Cape Town traffic spokesperson Richard Coleman said on Tuesday afternoon there was still rubble smouldering on Harbour Road but the rest of the area was accessible.Councillor Roberto Quintas said the protesters' grievances over fishing quotas could not be handled by the City of Cape Town as national government dealt with fisheries.
Source: News24