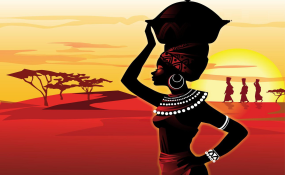 Photo: The East African
By Caro Rolando
Filmmakers, government representatives and stakeholders from across the continent converged in Nairobi seeking to discuss how the African Union's Agenda 2063 - "The Africa We Want" - can be reflected through film.
Co-hosted by the African Union and the Pan African Federation of Filmmakers (Fepaci), the delegates met at the Kenyatta International Convention Centre for the event called "Cinematic Expressions."
Among other objectives, Agenda 2063 seeks to create a prosperous Africa based on inclusive growth, good governance and a strong cultural identity.
IMPORTANCE OF FILM
According to Laikipia Governor Ndiritu Muriithi, the importance of use of film to communicate these ideals has the potential to be very effective.
"Film is the modern way to communicate with everybody," he said.
"The idea is to be able to provide inspiration in a way that most of our citizens can appreciate," Mr Muriithi added.
"(Cinema) can break down the high-level boardroom strategic documents and present the information using a mechanism that any citizen of Africa can appreciate."
POWERFUL TOOL
Kenyan filmmaker Albert Nyakundi also sees cinema as a powerful tool for communication.
"Film generally is one of the best ways to show anything," Mr Nyakundi told Nation.
"If you want people to know about, say, domestic violence, expressing it through a film just has a tendency to make people appreciate it more."
Mr Nyakundi added that cinema is also a creative avenue to discuss taboo topics.
"I feel there are a lot of things going on in society, but as usual, sometimes it just takes an artiste to just say it," Mr Nyakundi said.
BENEFITS
Mr Nyakundi also spoke on the economic benefits of the film industry.
"As a producer, I am more about what the film can do economically, to me, which translates to the people you hire and the other support businesses like catering. For me, I see it that way because the bigger that gets, the bigger I get."
According to Governor Muriithi, growing the film industry across Africa has the potential to create over 200,000 jobs for the youth.
"This sector is about creativity and the use of technology, and those are two areas where young people thrive," he said.
The event drew also drew feedback from those in attendance.
LACK OF FUNDING
Ghana's Former Deputy Minister for Tourism Abla Dzifa Gomashie said that government projects are difficult to concretise due to lack of funding and other barriers.
Addressing others at the event, Ms Gomashie said: "Sometimes, what is on paper and what the government plans to do doesn't have the financial backing to ensure that it happens. And so, we go around in circles, and every year we talk about it over and over again. My question really, to myself and perhaps to you is, what is the role of the creative artistes in the Agenda 2063?"
Ms Gomashie also said that governments need to put aside more funding for children's education about film and technology.
As a former producer of a children's show in Ghana, she said the issue is particularly important to her.
"We are the ultimate beneficiaries. As filmmakers, we have work to do," Ms Gomashie said.