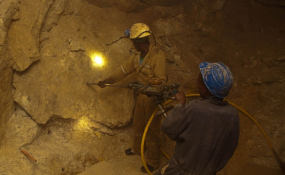 Photo: The New Times
By Munyaradzi Musiiwa
Gweru based chrome smelting company Zimbabwe Alloys Pvt Ltd has finally ceded 50 percent of its chrome mining claims to Government in compliance with the Mine and Mining development Ministry's directive to surrender some of its claims to enable a wider inclusion of locals in the sector. ZimAlloys had been reluctant to comply but has been forced to comply after an Indian investor, gave a conditions that they should comply with Government rules.
ZimAlloys Judicial Manager, Mr Reggie Saruchera told The Herald Business yesterday that the ferrochrome producer had fully complied with the Government directive and had ceded 50 percent of its claims to the ministry more than month ago.
"We have ceded 50 percent of our mining claims to Government as advised. I do not have the actual figure in terms of the number of claims but we have ceded the claims to Government about a month and a half ago," said Mr Saruchera.
ZimAlloys has a total of 39 175 hectares. The company together with Zimasco jointly controlled about 80 percent of Zimbabwe's chrome ore claims, mostly found along the Great Dyke. Government has, since 2015, pressed the two miners to release some ground but ZimAlloys had been reluctant to comply with the directive.
The Mines Ministry once wrote to ZimAlloys, giving the company up to mid-year 2017 to cede half of its claims.
"Please be advised that the Government, through the Ministry of Mines and Mining Development, reiterates its position that it will be acquiring 50 percent of all mining claims held by ZimAlloys in line with Government policy to increase the number of players in the chrome mining industry," reads part of the letter, signed by the ministry's permanent secretary Francis Gudyanga.
"Despite repeated efforts to have a common understanding, you have remained evasive with regards to this matter. Therefore, we will be giving you to June 7, 2016 to present the claims . . . or risk the claims being acquired at our discretion and without notice."
Mr Saruchera said Zim Alloys was finalising the deal with an Indian investor who has committed to injecting $ 100 million to recapitalise the giant ferrochrome producer. He said the deal will be concluded soon. Mr Saruchera said once the deal was consummated, the company would re-engage its former employees.
"We are now finalising the deal and soon we would have concluded it. We are also going to re-engage our former employees. We did the same with Zimasco and we want Zim Alloys to start operating on full throttle and that is my priority at the moment," he said.
The firm was placed under judicial management in 2013 as weak commodity prices and lack of capital affected the business' viability.