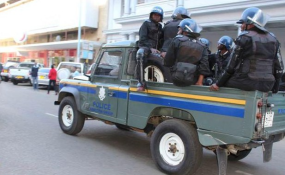 Photo: 263Chat
Police in riot gear on Tuesday blocked the installation of self-imposed Ndebele king, Stanley Raphael Tshuma at the Zimbabwe International Trade Fair (ZITF) where the event was set to take place.
Tshuma recently proclaimed himself as the new Ndebele king, a move which immediately drew the ire of King Lobengula's family members who described him as a fraudster.
Over 300 people who had come to witness Tshuma's inauguration were turned away by baton stick wielding riot police officers who were led by one, Inspector Manzini.
"We were about to start proceedings around 9:30 am when police under the instruction of Manzini disrupted the gathering. We tried in vain to engage the police officers to allow us to proceed with the ceremony but they refused," said Greater Sibanda, a spokesperson for the "King."
Before the crowd dispersed, Tshuma addressed the gathering after talking to the police who gave him a letter banning the meeting.
The Khumalo clan recently named a 32- year old Bulelani Colin Lobengula as their apparent to the Ndebele crown, ending years of speculation over the throne which remained vacant since the last king was overthrown by colonial settlers in 1893.