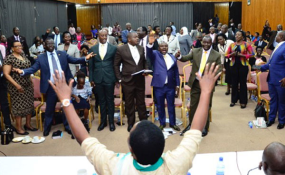 Photo: Alex Esagala/Daily Monitor
By Observer Media Ltd
Nabilah Sempala (Kampala Woman, FDC)
What these NRM MPs are doing is mob justice and castrating the constitution instead of legislating for the good of this country. It is unfortunate and I hope their voters punish them.
Patrick Nsamba (Kassanda North, NRM)
My conscience tells me that this is not good for this country. I am going to pray and fast so that this resolution does not come to pass.
Muhammad Nsereko (Kampala Central, Independent)
We have been telling Ugandans that these NRM MPs are not trustworthy and don't say what they mean.
Their intention right from the start was to remove age limits but people thought we were dreaming. Please voters, call them to ask who gave them the right to amend the constitution without your consent.
John Baptist Nambeshe (Manjiya, NRM)
This clandestine group of MPs is trying to agitate for the removal of the only safety valve we have in the constitution. When I put up my hand, they did not allow me to speak; so, I walked out in protest.
Gordon Bafaki (Kazo, NRM)
I am not party to that resolution because if there is anything that requires my voice, it has to go through the NRM caucus.
The meeting, which took place today, Tuesday, was for some individuals, so I don't concur with whatever was discussed.
Allan Ssewanyana (Makindye West, DP)
What they are doing is very dangerous and we are going to do something to block such a move. We shall come ready to fight. We must fight to preserve the dignity of our constitution.
Francis Gonahasa (Kabweri, FDC)
It makes me sick when I hear people supporting the lifting of the presidential age limits. Leaders come and leaders go.
Change of leadership should be continuous. That is a very unfortunate decision by those MPs who are a large group of young people who have no confidence in themselves.
James Acidiri (Maracha East MP, NRM)
I am not going to support the lifting of the age limit and no amount of money will change my stance.
I came to parliament not because of my party but my strength and they can chase me if they decide that those against the amendment should leave the party.
Ibrahim Kasozi (Makindye East, FDC)
I do not think they accepted to support the age limit removal on their own.
We are going to investigate who is behind this move and after the investigation, we shall go back to the people and tell them. This is not President Museveni's empire, but a country supposed to be owned by all Ugandans.