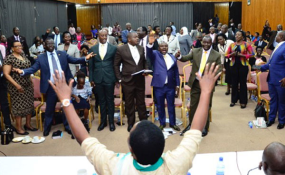 Photo: Alex Esagala/Daily Monitor
analysis
By Baker Batte Lule
The campaign for the removal of the age limit on presidential candidates dramatically moved from the fringes of ruling NRM party activists on to the national stage yesterday.
NRM MPs announced at a press briefing at parliament that they would introduce a private member's bill seeking to remove the age limit on the presidency, which would otherwise prevent President Museveni's candidacy in the 2021 elections.
Tuesday's dramatic turning point was a culmination of several manoevres that built up momentum towards the same goal. The Observer traces these developments since 2015.
2015 constitutional amendment
As the country warmed up for the 2016 general election, some constitutional amendments, mostly to do with elections, were presented before parliament.
In April 2015, The Observer revealed that that some ministers had attempted to smuggle the age limit amendment into the others to be considered by parliament, only for First Lady Janet Museveni, who was then minister of Karamoja, to express disgust.
The ministers reportedly in support of the proposal included Rosemary Najjemba, Henry Banyenzaki, Rebecca Otengo, Charles Bakkabulindi and Alex Onzima.
"For heaven's sake, why do we have to be so predictable?" Janet Museveni was quoted as rebuking the ministers. Her view was upheld and the age limit amendment was shelved.
Ssekitooleko's private member's bill
Immediately after he was sworn in for a second term as Nakifuma MP, Robert Kafeero Ssekitooleko spearheaded a move to open up terms of office for electoral commissioners and extend the retirement age for judges.
Kafeero's legislative manoeuvre was viewed by many in the opposition as a disguised plot to introduce an amendment to remove the presidential age limits.
His effort, however, suffered a stillbirth after Speaker of Parliament Rebecca Kadaga ruled that parliament would not entertain piecemeal amendments to the constitution, as the Justice and Constitutional Affairs minister had promised an omnibus constitutional amendment bill.
Kyankwanzi district NRM resolution
On July 4, 2016, the Kyankwanzi district NRM council passed a resolution calling on Members of Parliament from the area to spearhead the campaign to amend article 102(b) of the constitution to remove the upper age limit for presidential candidates.
The resolution was moved by one Raphael Muwonge.
Otafiire speaks
In July this year, Maj Gen Kahinda Otafiire, the minister of Justice and Constitutional Affairs, told this newspaper that all articles, including the one on age limits, were up for possible amendment.
Youths meeting
At a meeting of youths convened by State House aide David Mafabi in July, it was affirmed that the age limit was standing in the way of President Museveni, an exemplary leader.
Age limit 'idlers'
Asked by a journalist at State House Entebbe in July to comment on the raging age limit debate, President Museveni said idle people were wasting time debating a proposal that does not exist.
"Part of the rumour is that there is debate about the age limit; what are you debating? Which proposal are you debating or talking about? Where is the proposal? You cannot debate something, which is not yet proposed. If it is brought, we shall debate it," Museveni said.
KALOC pressure group
The most recent effort has been championed by youth campaigners working under a loose coalition named Kick Age Limitations out of the Constitution (KALOC). They got a huge public embrace from Prime Minister Ruhakana Rugunda last week and NRM secretariat officials.
To remove the spotlight from Museveni and get youths behind the proposal, this group pushed for removal of not just the 75-year upper age limit but also the lower 35-year limit.
Rugunda confirmed to The Observer in an interview that he was meeting the youth.
"Yes I meet them; they are my young comrades," the prime minister said.
He also confirmed he was in support of their cause.
"I see nothing that provides a scientific or rational reason that somebody who is above 75 years cannot be president," he added.