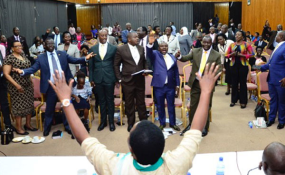 Photo: Alex Esagala/Daily Monitor
By The Independent
The former President of the opposition Forum for Democratic Change, Dr. Kizza Besigye says he is not surprised by the decision of a section of NRM MPs to back the move for a private members bill to amend the constitution and remove the Presidential Age limit. Opposition MPs say they will challenge the motion.
The majority MPs from the NRM met at Parliament's Conference Hall A on Tuesday and voted to support the ammendment bill. At the meeting, 246 NRM MPs resolved to move a private member's bill to lift age limit.
Article 102 (B) of the constitution sets the age range for president at 35 to 75 years of age, and Museveni who will be 76 in 2021 cannot run for the presidency again - unless the constitution is amended by the MPs.