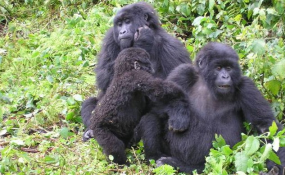 Photo: News of Rwanda
opinion
Rwanda Development Board (RDB) on Sept.01 held the annual gorilla naming ceremony at Kinigi in Musanze District, northern Rwanda.
This year marks the 13th edition of the annual flagship event, locally known as Kwita Izina. It is the flagship of Rwanda's conservation efforts and brings together conservation enthusiasts from all over the world to celebrate the central African country's success in protecting the endangered species.
The event attracted thousands including international celebrities, conservationists, and notable icons from Africa and beyond.
About 19 baby gorillas born late last year and this year were given names at the event.
Speaking to thousands at the foothills of the Volcano mountains in northern Rwanda, Belise Kaliza, chief tourism officer at RDB recognised 50 tour operators who joined the country to celebrate the event.
She said that the annual event has been a success because it has promoted Rwanda's tourism prospects.
"It is an important ceremony because it promotes our country's conservation efforts and boosts the growth of tourism industry," she said.
Statistics from RDB shows that gorillas contribute about 90 percent of the revenues from Rwandan national parks. Rwanda's tourism registered revenues worth 304.9 million dollars in 2014 with a total number of about 1.22 million visitors in the same year, according to RDB.
Kaliza said the baby gorilla naming ceremony has positively impacted the growth of gorillas and transformed the social and economic well-being of the communities surrounding the park.
"The tourism improved the livelihood of the community living around the area and the entire country," she said.
Rwandan President Paul Kagame at the event reminded Rwandan community on protecting and conserving the ecosystems.
"We should guard and protect the ecosystems thus it is within Rwanda's interests considering that the income help Rwanda move forward," Kagame told the participants.
Since the introduction of the ceremony, the gorilla population has grown by 26.3 percent, according to RDB.
"Let us preserve, protect ourselves and the biodiversity, and promote tourism notably the community living in the proximity of the Volcanoes National Park," said the president.
Gorilla tourism remains the backbone of Rwanda's tourism and conservation industry. Since the initial launch of Kwita Izina in 2005, a total of 239 mountain baby gorillas adding 19 named on Friday have been named, according to RDB.