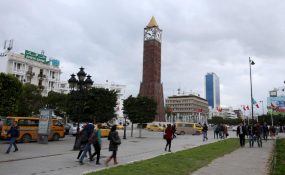 Photo: RFI
Tunis — The Tunisian Assembly of People's Representatives (ARP), or parliament, approved on Monday night a major cabinet reshuffle proposed by Prime Minister Youssef Chahed.
The reshuffle involves 13 portfolios and seven secretaries of state. Former Defense Minister Abdelkarim Zbidi, 67, returns to the post, while 55-year-old Lotfi Brahim, the former commander-in-chief of the Tunisian National Guard, will take the helm of the Interior Ministry. Taoufik Rajhi was named as minister of the Head of Government, a new ministerial position in charge of monitoring economic reforms.
The government of Chahed consisted of 26 ministers and 14 secretaries of state before the reshuffle. Now it has been expanded to 28 ministers and 15 secretaries of state.