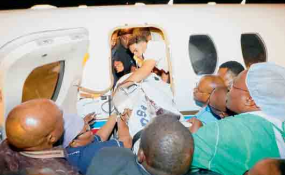 Photo: The Citizen
By By John Namkwahe
President John Magufuli today September 12, visited the retired Major General of the Tanzania People's Defense Force (TPDF) Mr Vincent Mribata who has been admitted at Lugalo Hospital.
Mr Mribata was shot on the stomach, waist and arm yesterday September 11, at his UnUnio home shortly after coming from a bank.
For his part, Brigadier General Mr Paul Massawe, who is a heart specialist at the Lugalo hospital where the retired army officer has been admitted, told Dr Magufuli that Mritaba's condition was improving.
Dr Magufuli, accompanied by Chief of Defence Forces (CDF) General Venance Mabeyo also had an opportunity to visit other patients who have been admitted at the hospital.
Dr Magufuli heaped praise on doctors at the hospital for their excellent services assuring them that the Government would continue to address various challenges facing them.