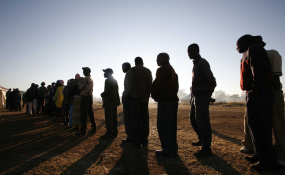 Photo: IRIN
By Walter Nyamukondiwa
At least 70 district election officers and technicians in Mashonaland West Province have undergone training on Biometric Voter registration. This is in preparation for the actual voter registration process expected to start on Thursday. The two-day training programme drew election officers, clerk typists and voter registration supervisors from the province's seven districts.
"The workshop was aimed at equipping them with requisite knowledge and skills in the operation of the BVR kits," said acting provincial elections officer Mr Austin Ndlovu.
"Participants have been taken through the general principles of voter registration, the legal framework governing the conduct of voter registration and the general use of the kits."
Mr Ndlovu said voter registration would be done in phases, starting with Kariba and Hurungwe districts, before it moved to Makonde and parts of Zvimba.
It will move to Chegutu District before going to Mhondoro and Sanyati districts.
The training started in Harare with master trainers, which saw 11 trainers and four technicians from the province being trained.
Master trainers are now cascading the training to the districts.
BVR kit operators will receive training from Saturday to October 3.
Mr Ndlovu urged participants to take the training programme seriously, as the success of the system hinged on their ability to efficiently operate the kits.