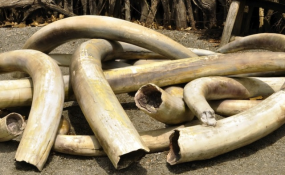 Photo: Daily News
Maputo — The Mozambican police on Friday detained two people, a Mozambican and a Tanzanian, in the northern province of Nampula in illegal possession of ivory and semi-precious stones.
The two men were accused of carrying seven pieces of ivory, weighing a total of 45.5 kilos, and 3.7 kilos of garnets, on board a bus of the company Nagi Investments.
The ivory and the garnets were discovered during a routine police search at a checkpoint on the main north-south highway in Murrupula district. The bus had begun its journey in Beira, and its final destination was Nampula city.
The ivory was hidden in a sack of maize and the garnets in a briefcase. The spokesperson for the Nampula Provincial Police Command, Zacarias Nacute, said the police arrested not only the two suspected traffickers, but also the driver and the fare collector of the bus.
"So far it has not been possible to ascertain the origin of these goods, since the individuals have not yet said anything, but the police are working to obtain more information", said Nacute.
But the suspects did talk to the press, and denied that they were traffickers. They said the ivory and the garnets belonged to a passenger who escaped during the police search, leaving his luggage behind. This man had supposedly got on the bus in Alto Molocue district, in Zambezia province.
According to the detained bus driver, "at 04.30 a man appeared with a sack saying he wanted to travel to Nampula. When we reached the checkpoint, the police ordered us to stop and began their search. During the search, the owner of the sack left the bus and fled. At the same time we informed the police that he also had a briefcase in the bus. When they opened it, they found the stones and took us to the police station".