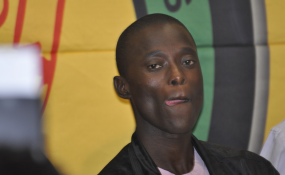 Photo: Garyvdm/Wikimedia Commons
The memorial service of former ANC Youth League (ANCYL) secretary-general Sindiso Magaqa was disrupted on Wednesday night as ANC members supporting Deputy President Cyril Ramaphosa for the party's presidency clashed with Nkosazana Dlamini-Zuma supporters.
When ANCYL secretary-general Njabulo Nzuza, took to the podium, Ramaphosa supporters booed him, threw water bottles and made gestures signalling that they wanted change.
News24 understands that they were not happy with Nzuza addressing mourners before former ANCYL deputy president Ronald Lamola. On the programme, Nzuza was listed ahead of Lamola.
When it was Lamola's turn to pay tribute, Dlamini-Zuma supporters sang over his speech, prompting organisers to increase the microphone's volume so that Lamola could be heard.
Proceedings got off to a rocky start with the memorial, held at the University of Johannesburg's Soweto campus, starting roughly two hours late.
Speaking in his capacity as the league's Gauteng deputy chair, Vuyo Mhaga, said Magaqa's generation shook South Africa up.
"This is a generation that understood what must be the agenda, irrespective of whether you agreed or not. Either you were for or against the nationalisation of mines," he said referring to the youth league leadership which was disbanded in 2012 under the leadership of Julius Malema, who now leads the EFF.
'Loyal member of the ANC'
On Magaqa's killing, he said: "Now that comrade Sindiso Magaqa is no more, can the guns in KZN be silenced."
Former provincial secretary Ayanda Kasa-Ntsobi said she never thought she would have to bid farewell to Magaqa.
Sharing her last encounter with Magaqa, Kasa-Ntsobi said: "I consider myself one of the luckiest because I got to hold his hand, I got to talk to and hear him when he was lying in hospital."
She said it was not the will of God for Magaqa to die in July when he survived a hail of more than 40 bullets during a suspected ambush in Umzimkhulu.
"Sindiso Magaqa was a loyal member of the ANCYL, a true revolutionary and a true citizen who stood against corruption in his municipality," she said.
"Our forefathers did not fight for us to be killed like this," she added.
Fighting corruption
Gauteng's former ANCYL chairperson Lebogang Maile said: "Things are not well in the ANC, it is not a problem that is peculiar to KwaZulu-Natal only. We see it in different parts of our country; comrades killing each other for positions, because of greed, factionalism and corruption."
Maile said unless the ANC fixed "that which is wrong, own up and become honest about the challenges that we face, we will continue burying comrades and having [selfish] killings of our comrades in different parts of our country".
Maile urged members to commit themselves to fighting corruption, greed and factionalism.
"We must send a strong message to those in the ANC leadership who think that being in the ANC is about status, blue lights and giving opportunities to your friends."
He said being in the ANC leadership should be about serving people.
"When the ANCYL was disbanded and he (Magaqa) was unemployed, he never went to the EFF, he never sold his soul... he remained steadfast in the ANC and a disciplined member of the ANC."
Unapologetic
It is then that drama ensued when current ANCYL secretary-general of the youth league Nzuzo went to pay tribute to Magaqa. While Nzuza was speaking members believed to be Ramaphosa supporters sang: "Zizojika izinto", loosely meaning, things will change.
Lamola and former ANC MP Pule Mabe got off the stage to go and calm the members who were standing on chairs and throwing water bottles.
Nzuza was forced to cut his speech short.
When Lamola delivered his tribute, Dlamini-Zuma supporters sang loudly in an attempt to drown out Lamola's voice.
"Magaqa stood firm even during difficult times when the leadership of the youth league and all young people in the country were persecuted... He made sure that all of us as a generation speak in one voice," shouted Lamola.
"There was a time when it was difficult when Magaqa and others were expelled and suspended... At all times he did not allow any retreat... He did not believe that he must apologise for his beliefs and what he stood for."
Amid the loud singing, Lamola continued saying young people should not be deterred by those who brutally murdered Magaqa.
"Our generation must make sure that he is not silenced by the 40 bullets that entered his body... We must not be deterred by those who tried to silence him even in his death."
'Please cease fire'
He said young people must bring new ideas to the ANC.
"The ANC cannot continue being led by pensioners... The ANC will never be surrendered to those who go to Dubai and build Noah's Ark and disrupt gatherings of the ANC."
He said: "The membership of the ANC will reclaim the ANC in the December conference."
At this stage the crowd had settled and was listening to a fiery Lamola.
Lamola said a united youth league would ensure that the ANC was renewed.
He apologised to the family for the disruptions.
To the province of KwaZulu-Natal, he said: "Please cease fire."
Former ANC MP Mabe, announced that a trust fund in Magaqa's name would be established to assist his family. He said the foundation would ensure that Magaqa's children are clothed and continue to go to school.
Magaqa's uncle, Vuma Magaqa, thanked the speakers saying the family was at first reluctant to attend the memorial service but was grateful "that many considered him a hero".
A memorial service is expected to be held on Thursday at the eBhisa Sports Field in Umzimkhulu at 10:00.
Magaqa's funeral service is expected to take place at 09:00 on Sunday at eBhisa Sports Field in Umzimkhulu, KwaZulu-Natal.
Source: News24