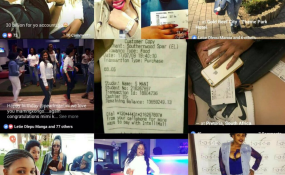 Photo: Supplied
All three stakeholders involved in an error that saw a Walter Sisulu University (WSU) student receive a R14m payout were adamant the error was not made on their side, MPs heard.
WSU, the National Student Financial Aid Scheme (NSFAS) and cash service IntelliMali accounted to MPs on the portfolio committee of higher education on Wednesday on the events that lead to Sibongile Mani receiving the huge sum.
Mani was due R1400 as a recipient of a NSFAS loan only, but reportedly received R14.1m instead, following a transaction processed by Intellimali, on behalf of the university.
WSU vice chancellor Rob Midgley said the university had conducted various reconciliation processes to track down if the problem was on their side.
Midgley explained that the university keeps a spreadsheet of all the students who receive NSFAS loans and grocery grants, which then gets sent on to IntelliMali.
"According to our information, the spreadsheet accurately showed the R1400 [given to students], including Ms Mani. From our side we are satisfied that the integrity of our reconciliation process was intact," Midgley said.
"We had no reason to doubt the integrity of the system or the quality of the services that came our way," he also said speaking of IntelliMali.
Midgley was honest that the experience was a "massive wakeup call" and that had caused immense reputational harm to all involved.
He emphasised that no action would be taken against Mani until after the forensic probe was completed, and there should not be further victimisation of her.
'No one is pressing zeros'
NSFAS CEO Steven Zwane also said there was no misuse of funds by NSFAS employees following their own internal checks.
"We can articulate very clearly in this R14m issue there was no misuse of funds from a NSFAS point of view, and we've learnt there was no misuse of funds from a WSU point of view, which gives us a sense of comfort."
Zwane said that NSFAS is ultimately the custodian of the money, and they have fast-tracked their own distribution plans with the help of two suppliers.
IntelliMali CEO Michael Ansell interestingly said that even now their systems show that the right transaction of R1400 was made to Mani on the date in question, and there was no "oversight, error or negligence" on their part.
The firm gets a file from the university and does their appropriations via the information given to them from WSU, Ansell told MPs.
"So no one is pressing zeros, no one is typing numbers. All our reports showed that the loading process was correct," Ansell said.
He, therefore, could not account for how Mani received such a large figure, and said the forensic investigation they have ordered will see if anyone "has wronged" them.
'Collusion, merchants'
All three institutions also said that they couldn't discount collusion on the part of merchants and vendors who deal with IntelliMali cards. There seemed to be growing evidence that the student at the least was aware of certain vendors who could be open to giving her cash, Ansell said.
Ansell said that one merchant they know of has since disappeared, while the whereabouts of another two were "uncertain".
Their answers led to more questions from MPs.
Economic Freedom Fighters MP Moses Mbatha wanted to know how Mani received the money, as she couldn't "just get it from Jesus". He also said that NSFAS should have laid charges, not IntelliMali, as the student had not committed theft.
African National Congress MP Sibongile Mchunu said it was not explained how IntelliMali was first notified, and said they need to know how the money was transferred to her in the first place.
Committee chairperson Connie September said they understood there were now probes underway, but from their point of view, the student herself had said there were othersAnsell said that the investigation probe will get to the bottom of the case and IntelliMali will not stand in the way of the third party hired. It has given it full access to all their files.
Department deputy director general Diane Parker said they too will wait for the report, but found it peculiar that while the student had acted unethically, she didn't steal the money, but rather received it.
Source: News24