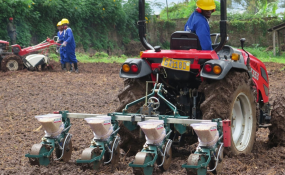 Photo: The New Times
By Sifelani Tsiko
The recent opening of a new community seed bank in Mudzi, about 230km east of Harare, represents a critical milestone in repositioning the farmer to take charge of all efforts to conserve indigenous crop varieties and increase farmers' access to the seed.
Andrew Mushita, director of Community Technology Development Trust (CTDT), a local NGO, said the opening of Chimukoko Community Seed Bank in Mudzi district would boost efforts by smallholder farmers to conserve local crop varieties critical for the survival of the country's indigenous food crop base.
"This facility is unique for the local community," he said. "It's about taking care of the district's genetic resources which are critical for current and future food production."
He said genetic resources are the basis for all food production, and it is important to preserve the genetic diversity both in gene banks and in farmers' fields.
CTDT and Oxfam Novib built the community seed bank at a cost of $25 000. The local community, traditional leadership and Mudzi Rural District Council also supported the construction of the seed bank which is expected to enhance food security and improve livelihoods for more than 25 000 people in three wards.
"The establishment of community seed banks in selected districts around the country was necessitated by a realisation that farmers are slowly losing their valuable indigenous crop seeds due to the vigorous promotion and growing of hybrid crop varieties which concentrate on a small number of varieties designed for intensive farming," Mushita said.
"These Western varieties are not suitable and adaptable to local conditions. To fight the erosion of local seed varieties, it is important to set up more community seed banks."
The new seed bank has a storage room insulated to maintain relative room temperature ideal for seed storage, as well as a bulk seed storage room.
It holds more than 200 seed varieties which include a rare collection of indigenous pearl millet, finger millet, sorghum, indigenous rice, okra, pumpkins, maize, groundnuts, beans, bambara, cowpeas and a wide range of indigenous vegetables.
"Seed security is a national security matter," Mushita said. "Food is a security issue and we need to guard our local seed varieties jealously to feed our people and to cope with the changing climatic conditions."
The opening of the community seed bank was part of an ambitious plan by his organisation to build more community seed banks in Mt Darwin, Rushinga, Matobo and Mudzi to provide support to local communities which are playing a big role in preserving small grains and other indigenous crop varieties to enhance food security and their livelihoods.
Mushita, a veteran agronomist and development expert, says recurrent droughts have put the country's agricultural diversity at risk, a problem compounded by farmers abandoning their local varieties for new, high-yield, commercial seeds.
Speaking at the same event, Oxfam Novib (the Netherlands) director Ms Farah Karimi said the opening of the new seed bank would help to enhance seed availability for locals.
"I'm impressed by this new community seed bank here in Mudzi," she said. "It's a much needed resource which will help people access the right seed at the right price and at the right time. "It will no doubt help improve access to seed to marginalised communities. In the wake of climate change, seed security is food security."
Community seed banks are places where seeds are stored primarily to share, through seed swaps or other events. Farmers often donate seed to the community bank after a good harvest. When they don't have enough seed for planting, they borrow from the seed bank.
When they grow plants in a season, they can return the seed plus an interest (in seed form) to help grow seed stocks in the community bank. Seeds are at the heart of agriculture and smallholder farmers plagued by hunger, poverty and insecurity can use seed banks to source seed at a lower cost.
Most traditional varieties and other wild species are being lost through genetic erosion, as farmers adopt Western varieties and cease growing the varieties they have nurtured for generations.
Eventually, they lose these varieties, leaving most crop and wild species threatened with extinction, as their habitats are destroyed by human disturbance.
CTDT and other partners are working to ensure the long-term preservation of crop seed biodiversity as a part of national, regional and global strategies for the conservation of crop genetic resources.
Agricultural experts say fewer crop species are feeding the world than 50 years ago, raising concerns about the resilience of the global food system.
They warn that loss of diversity means more people dependent on a few key crops, leaving them more exposed to harvest failures. Higher consumption of energy-dense crops could also contribute to a global rise in heart disease and diabetes, they added.
According to the UN Food and Agriculture Organization, the diversity of cultivated crops declined by 75 percent during the 20th Century and a third of today's diversity could disappear by 2050.
Zimbabwe and other African countries are losing plant genetic material. Experts say plant genetic materials facing extinction in the region include labour-intensive crops such as bambara, green gram, sesame, round potato (Zulu potato) and a wide range of indigenous maize, sorghum and millet varieties.
Agricultural experts say the world's agro-biodiversity is disappearing at an alarming rate and for several major crops, up to 80-90 percent losses in variety over the past century have been reported.
Zimbabwe has lost a number of local crop varieties due to neglect, erosion of local indigenous knowledge systems, promotion of improved varieties, lack of incentives for locally adapted crops and recognition of the keepers of crop diversity, among other factors.
Seed collections start at the community seed bank before they are moved to the Genetic Resources and Biotechnology Institute (formerly the National Gene Bank of Zimbabwe) and the SADC Plant Genetic Resource Centre in Zambia which sends them to the global seed vault, which opened on the Svalbard archipelago between Norway and the North Pole in 2008.
The SADC Plant Genetic Resource Centre now holds more than 18 000 diverse crop and wild relative accessions as the bloc steps up efforts to conserve germplasm collections and to deal with problems associated with a changing and unpredictable climate.