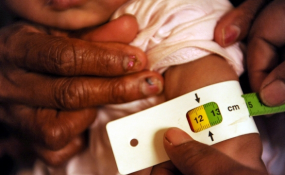 Photo: Guy Oliver/IRIN
By Aaron Banda
Mchinji — In an effort to reduce malnutrition rate in Mchinji, a local nongovernmental organization has launched one week malnutrition free campaign in the area of Traditional Authority Zulu.
According to Malawi Demographic Survey 2015/16, 44 percent of the children in Mchinji are stunted with 11 percent being severely stunted.
Speaking during the cooking demonstrations at Mtondo village on Wednesday, Women's Hope for Change executive director, Helen Makukula said the malnutrition free campaign week through a project known as Supporting Nutrition Integrated Component (SNIC) is aimed at educating communities on the importance of eating a balanced diet.
"We are putting in place special interventions to address malnutrition in under 5 children, lactating and expectant mothers to ensure that children are not malnourished and for mothers to deliver healthy babies," she explained.
She also asked communities in the area to diversify their foods to meet good nutrition standards.
Women's Hope for Change among others is imparting knowledge to the communities on sanitation and hygiene as reports indicate most households in the area do not have toilets and pit latrines.
During the cooking demonstrations, one of the participants, a lactating mother commended the organization for coming directly to women saying they are those who look after households by making food resources they have nutritious to ensure healthy families.
"It is sad to note that most of the under 5 children in our area suffer from malnutrition related diseases, so with the coming in of this initiative, we are seeing change but still there is need to raise awareness in communities on how to improve nutrition especially among children," she said.
SNIC project which Women's Hope for Change is implementing started in 2016 and is expected to end in June 2018. The project has three thematic areas of sanitation, reduction of malnutrition and promotion of primary health care and is targeting over 1400 households.