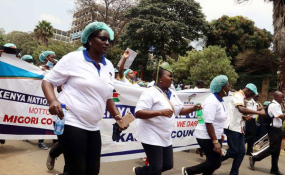 Photo: Diana Ngila/Daily Nation
Nurses have remained adamant that they will not resume duty even as governors threaten to sack them.
Speaking Wednesday in Nairobi, Kenya National Union of Nurses Secretary-General Seth Panyako said the workers will not go back to work until their grievances are addressed.
"Nobody can coerce a worker to resume duty without having satisfactory agreements," said Mr Panyako.
The official added that the strike will only be called off when the Salaries and Remuneration Commission (SRC) implements their Collective Bargaining Agreement like what was done for doctors.
DISCIPLINARY ACTION
"We are all professionals, therefore, you cannot pay one cadre up to 400 per cent increment while lowering the salaries of the other cadres, dismissing them as semi-skilled workers," said Mr Panyako.
But in some counties, governors have threatened to move ahead with the disciplinary action against the nurses who have been on strike for the last three months.
Nakuru Governor Lee Kinyanjui has threatened to lay off more than 1,200 striking nurses if they fail to return to work by Friday.
Mr Kinyanjui on Wednesday said those who will not have reported to their respective areas by the end of the week will have their positions advertised for replacement.
DIALOGUE
He spoke as the nurses, through their national association, pleaded with the Council of Governors to give room for more dialogue.
"For three months now, hospitals have not been operational and patients have been forced to seek services in private facilities which they can't afford. This is totally unacceptable," said Mr Kinyanjui.
Three weeks ago when he assumed office, the governor formed a taskforce to look into issues affecting the county's health sector, including the nurses' strike. The team had 30 days to table its report.
The same case applies to Nandi and Baringo counties where the respective governors have issued a warning that those who will not resume duty by Monday next week will be dismissed for "engaging in an illegal action" that has affected provision of healthcare.
STRAINED SERVICES
Nandi Governor Stephen Sang said the nurses' strike had strained services in the region's public health facilities.
"Our health facilities are suffering from inadequate personnel. The current strike by the nurses has been declared illegal by the courts since it is not protected," said Mr Sang in an address to the Nandi County Assembly.
Mr Sang said the striking nurses must abide by a directive from the Council of Governors which ordered all workers to return to work by September 8 failing which the county government will dismiss them summarily.
"We are in the process of compiling data in order to establish how many nurses are back at work and will proceed forthwith to engage nurses on a contract basis to replace those who deserted duty," he said. Last month, Baringo County Health Executive Andrew Kwonyike said they had stopped the salaries of nurses who were still on strike.
WILLING
The nurses, led by their union secretary Francis Koros, said they were willing to return to work after the Collective Bargaining Agreement is signed.
The governors' council had threatened to take disciplinary measures against the nearly 26,000 nurses who have been on strike for the last 102 days.
Despite the threats, the nurses accused the national government of delaying a solution to the strike by failing to listen to their demands.
Nurses from Kisii, Migori, Homa Bay and Nyamira, who staged a demonstration along the streets of Kisii town on Wednesday, said they will not be cowed by the governors' threats and will only resume work when the CBA is signed. The union's Kisii County Secretary-General Moses Riang'a said the national government, the governors' council and SRC had conspired to prolong the strike situation.
DEMANDS
The nurses are demanding Sh25,000 in monthly allowances, Sh15,400 in risk compensation, Sh5,000 in extraneous allowances as well as Sh5,000 responsibility allowance.
They also want Sh50,000 annual allowance for uniform.
But both the governors' council and SRC have said the caregivers must return to work and await an evaluation of their job descriptions.
"We are used to their threats to sack nurses but we are not afraid. Our stand remains strong and we will not go to work until our demands are met," said Mr Riang'a.
Reported by Elizabeth Merab, Magdalene Wanja, Elgar Machuka, Philip Bwayo and Flora Koech