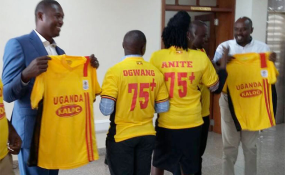 Photo: The Observer
By Baker Batte Lule
On Wednesday, September 13, President Museveni spent about four hours at State House Entebbe with journalists, discussing, among other things, the controversial Constitution Amendment Bill 2017 and the fast-tracked plan by NRM MPs to scrap the constitutional presidential age limits.
Below are some of the questions asked by journalists and answered by the president.
The NRM caucus convened yesterday [Tuesday] and passed a resolution to table a motion in parliament seeking leave to present an amendment bill to scrap presidential age limits.
The last time you were asked about this, you said it was idle talk. But this was the caucus of the ruling party with over seven ministers present; that surely can't be idle talk.
What is your position on that because you are the biggest beneficiary of that amendment if it is passed. Second, in your last interview with NTV, you said that someone at 75 years of age is not fit enough to be a leader.
Let's start with the biology; one who is 75 [years old] is he fit? Well, I think we should ask the medical doctors; they could help us with a written report. I don't interfere with their work. Go and ask them to write a medical report about the fitness of somebody who is 75 years, whether they are medically fit to lead.
About the NRM people who were involved in some activity; that one is not the official NRM caucus but they are NRM people who in Runyankore are called nyekundiire, they are volunteers and they have got their views.
Originally, they were provoked by these malicious people who are busy, busy... But as I said earlier in the interview, for us we did our work in 1993 and 1995 in the CA [Constituent Assembly] when we organised Ugandans and they elected a CA, which wrote a constitution and everything is there.
If you want to change the Constitution, how do you do it? If you want to maintain it, how do you do it? For us our work was finished, the rest is for you the young people and the MPs and other leaders. They should discuss in the interest of Uganda and Africa, that's what I would like to say. So, if that issue has come up, debate it and see how to resolve it.
Your government is reputed for having brought peace and security. But three months ago we have seen increased cases of murder in Wakiso. What do you think the problem is?
We defeated [LRA leader Joseph] Kony, Karimojong cattle rustlers and the rebel ADF, among others. Our UPDF infrastructure is strong and those groups can no longer destabilize Uganda.
But recently, starting with the murder of the sheikhs, then Joan Kagezi [senior state attorney] and girls in different parts of the country, there have been some weaknesses we have not been paying attention to. But now I think we have discovered the gaps, and that criminality is going to stop.
These urban crimes will be defeated when we use new ways. Some people have been arrested for those murders but we are going to close those gaps. We have spent a lot of energy on war but this is not war, it is crime and it will stop.
There is a view that you are too kind to deal with corruption, that's why it has continued to be a problem 30 years after you said you're going to deal with it.
Those who know the history of NRM know that we killed soldiers who killed people; therefore, we are not jokers. But those we shot [firing squad], it was obvious that somebody had killed another because it was an overt act.
But corruption is not easy to see. It is a covert action. So, when you don't get bwino [evidence], you get into other problems. Uganda now has no refugees outside, even those on kyeyo come back because everybody feels relaxed.
They know that no one can touch them in Uganda as long as there is no evidence that one has committed a crime. I don't want to spoil that atmosphere here, that's why I go slow until I get bwino and grab you.
Why don't you just amend the Land Act other than the Constitution?
Whether it is changing the Land Act or an article of the constitution, the issue we should answer is; is there a problem? If there is a problem, then what is the best way to solve it?
For me I'm not bothered whether the problem is solved this way or that way. What I don't want is continued paralysis and delay of strategic government projects.
The issue of land touches every Ugandan and everybody has views about it. What does government think about holding a referendum for all Ugandans to decide on the issue?
It is possible [to hold a referendum] but I think that a referendum should be held on an issue, which is clear. Rationally this issue of land is hard to be decided by many people because it is not a singular issue.
A referendum needs one issue that is clear; yes or no, but this issue of land has got many clauses, so how do you frame the question? This is like holding a referendum for the village to decide whether someone is sick or not.
The constitution talks about prompt compensation; oftentimes, land is valued but landowners take a long time to be paid. Secondly, many Ugandans don't seem to trust government to acquire land and use it for its intended purpose. Probably it is that mistrust that makes people a bit resistant to surrendering their land for government projects.
When government is slow to pay, they pay interest that is what the law says. On trust, you talk about government land, which was converted to other use, that is a different story.
For instance, on the UBC land on top of the hill [Nakasero], we now have a huge hotel called Hilton [Pearl of Africa hotel]. That was government land given to a private person as part of investment promotion. This is part of the ignorance that Hon. Kasyate seems to share.
The other day a young gentleman in parliament asked me, Mr Museveni do you have shares in Madhvani's company, I said no sir honorable, I have no shares there. But then he said if you don't have shares, why are you defending Madhivani so much? According to him, if I don't have personal shares in the private business of people, I shouldn't defend them yet the job of the modern government is to promote the private sector.
Part of the proposed amendment says if the value [of land] has been set, let the owner receive that value and the government project goes on and if he is not satisfied, he petitions a court of law or tribunal. Many who are opposed to this can't imagine an ordinary citizen taking on a government. Even if the court process is time-bound, what are the chances of success, isn't that a valid concern?
What is the alternative? Uganda should remain in the dark ages, we shouldn't develop? You have heard that democratically speaking the market value of land is known. Wake up Ugandans and other Africans; the modern world is about the private sector. When you hear that countries are strong, it is because they have got a strong private sector.
I have to spend some time on radio speaking about these issues because I sat back thinking that people will understand. But when I hear people argue that; why are you defending Madhivani, is he of the Basiita clan or do you have shares in his company, a member of parliament, leader, what sort of future do you have?
You are all here eating beef but you don't know where it is coming from, you don't know how much I suffer with the rain, with foot and mouth disease, with the kyeya [drought]. For you, you are just here with a tie. Simon Kasyate. All of you see beef on the table. That's why you have not read Adam Smith; you should go back and read him.
Why haven't you waited for the Justice Catherine Bamugemeire Commission of Inquiry on land matters because it might also come up with issues that require a constitutional amendment.
The commission is investigating issues I don't know properly. But this issue [land] we know and we don't need research but a solution and we must not wait for the report.
On the issue of having a ceiling on busuulu, that we shall never abandon because first of all this mailo system is satanic; we only kept quiet because we need peace in Uganda.
These mailo owners found people here who they turned into squatters in the 1900 agreement. These traitors who collaborated with the whites were given eight miles each and turned our people into squatters and started demanding exorbitant fees in busulu. This led to the people's resistance in 1920 in the famous Bataka movement.
Even in the CA, these owners were saying we should leave them to deal with the squatters but we said no.
There are organisations such as kingdoms; religious institutions, why don't you first consult them because they also own a lot of land and, much of it has people.
You know me I fought with the Bakopi [the poor] in the bushes; the rich were never with us in the bush. But when we won, we brought on board the rich; therefore, the rich should also listen to us.
The peace that was brought by the NRM is benefitting everyone. Therefore, on the issue of land, I would also wish those institutions consulted me. I'm also here.