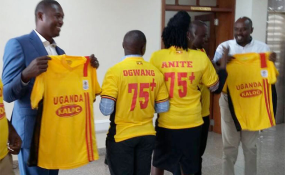 Photo: The Observer
opinion
By Moses Khisa
On Tuesday, the ruling National Resistance Movement (NRM) parliamentary caucus resolved to press on with the nefarious plot of further entrenching Yoweri Museveni's life-presidency.
They want to remove the constitutional cap on the presidential age limit. I was in kindergarten when the current rulers arrived. I have since gone to school up to the very highest level and Mr Museveni is still holding onto our country; illegitimately, one might add.
My children are now going to school, and Mr Museveni is still ruling us. Surely, we have to say no, emphatically. And Museveni himself must consider saving grace and avoid the possible humiliation of forced push out of power, which is not entirely impossible.
If the fight to stop General Museveni and the misguided, selfish, and morally reprehensive coterie in parliament and elsewhere belongs to anyone, it's to my generation. It is our fight. What is at stake is the future of our country, of our children and our children's children.
From the start, we have been told that it's fait accompli: the age limit will go if the chief beneficiary wants it to go. We have been prepared by regime sycophants and apologists, who pose as 'analysts' and vend themselves around Kampala's TV and radio talk shows, to accept that the outcome is inevitable.
The NRM has the numbers and Museveni has the money to pay them, we are reminded. But MPs behind plotting to entrench an authoritarian one-man rule, and the schemers available for hire by the real rulers, need to know that there will be resistance. There is pervasive fatigue against this one-man rule.
More important, there is deep indignation against the utter misrule, the plunder of the country; parceling away public land to individuals ensconced to the state and selling away everything we owned as a country; having an economy where Ugandans have very little stake; the sheer collapse of the public spirit and a sense of collective existence; the glaring social injustices at the behest of the powerful; the nepotism and cronyism; the travesty of the rule of law and the mockery of democracy.
This is an endless list of the abuses and betrayal visited on the country under the rule of one man. General Museveni shot his way to power in 1986 and has largely relied on coercive power to sustain his rule, but there is going to reach time when enough Ugandans will call a bluff on the fear of guns.
There is an attempt to couch the nefarious age limit scheme in general terms as a principle worth upholding. Apparently, an age limit provision in the Constitution is unconstitutional because it violates the right to equality of opportunity and the protection against discrimination.
Those making this ludicrous argument are insulting their own intelligence. It is a shallow attempt at creative packaging.
We are stuck with an imperial president whose love for power knows no bounds. For a country that has historically made history for all the wrong things, we are yet again a reference point for rulers who just can't leave power.
Thirty-five years in power is embarrassingly long enough. To attempt to cling on even longer is simply despicable. Although constitutionalism has suffered a stillbirth in Uganda, there was hope in the last standing constitutional redoubt against the one-man rule: the age limit provision.
The chief beneficiary and, indeed, the lead author of the current dastardly manoeuvre, General Museveni himself, recently revealed that he believes being in power for a short time is a bad thing. And by extension, ruling for long is good. No, sir!
Look around and see the three-decade-long decadent system you are presiding over, where doing something as basic as constructing a road takes forever because of a corrupted system of rent-seekers and parasitic power brokers.
Longevity in power tends to have a corrosive, not progressive, impact. The most impoverished African countries today are also the ones where rulers held or still hold power upwards of three decades.
If long reigns were guarantors for progress, then Angola, Cameroon, Congo/Zaire, Chad, Equatorial Guinea, Sudan, Togo, and Zimbabwe would be high performers and beacons of prosperity. They are not. And Uganda is in the same category after more than thirty years of one-man rule.
Museveni's long reign has produced institutional dysfunction. The few institutions that were previously islands of decency and modest excellence such as the central bank have not been spared in the latter phases of a wild neo-patrimonial system where institutional autonomy is undermined at the altar of political expedience and lining pockets of individuals.
By contrast, the countries that have posited modest but stable socioeconomic progress and have stabilized their politics, thus making the future more predictable, have not had life-presidencies: Benin, Botswana, Cape Verde, Ghana, Mauritius, Mozambique, Senegal, and Tanzania. For all their severe hovering problems, one can add Kenya, Malawi, Nigeria, and Zambia to that list.
The author is an assistant professor of political science at North Carolina State University.