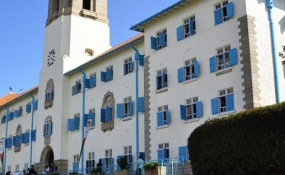 Photo: The Independent
By Ouma Wanzala
A crisis is brewing in the Kenya's legal profession following a decision by Makerere University to recall degrees obtained in the last decade.
The Ugandan university said the results were either altered or degrees forged.
Many Makerere graduates are advocates and magistrates while others are in public and private institutions.
A lawyer said if the university makes good its threat, hundreds of students who graduated from 2007 and were already in employment would be affected.
Ripple effects
"The chaos in the legal profession will have ripple effects. It means Kenya School of Law will recall diplomas awarded while the Law Society of Kenya will expunge many from the roll of advocates," the lawyer, who requested anonymity, said.
Cases that were handled by the affected lawyers and magistrates would be restarted.
Kenya Commission for University Education chairman Chacha Nyaigoti Chacha on Wednesday admitted that the recall of the degrees would affect many.
He added that postgraduate students with a first degree from Makerere would have to end their studies.
Early this year, the country's Council of Legal Education stopped the admission of law students from East Africa, especially Uganda, to the Kenya School of Law but the High Court quashed the decision.
CLE chief executive Wanyonyi Kulundu-Bitonye said the decision was arrived at when a procedural error in the admission of foreigners to the school was discovered.
Prof Kulundu-Bitonye said the issue had been discussed at a meeting on legal sector reforms convened by the attorney-general and the department of justice.
However, Uganda Law Society President Francis Gimara protested, saying the move was not consistent with the spirit of liberalisation of legal services in the region.
Uganda students have used the courts to get admission to the law school whenever denied a chance.
The investigation in Uganda is led by former Makerere School of Law dean Damalie Naggitta-Musoke.
Inquiries are being conducted by the Central Examinations, Irregularities and Malpractices Committee.