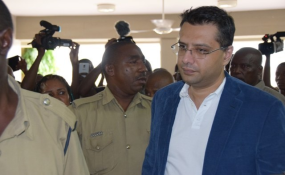 Photo: Daily News
By Tausi Ally News@tz.nationmedia.com
Dar es Salaam — The Kisutu resident magistrate court has set free a business tycoon Yusuf Manji and three co accused who were facing seven counts on economic sabotage.
The Kisutu senior Resident Magistrate Mr Huruma Shaidi made the decision on Thursday afternoon after the senior Public Prosecutor Kishenyi Mutalemwa asked the case to be dropped. Mr Matalemwa told the court that the Director of Public Prosecution (DPP) has no intention to continue with the case.
The City business tycoon and three others were charged with seven counts including that of illegal possession of government stamps and textile used for making Tanzania People's Defence Force (TPDF) combat uniforms.
The charges against Mr Manji and his three other co-accused were read at the Jakaya Kikwete Cardiac Institute housed within, where the Kisutu Resident Magistrate's Court had to move. Charged along Mr Manji are Mr Deogratius Kisinda, Abdallah Sangey and Thobias Frewe.
According to the charge that was read before resident Magistrate Shaidi, the accused allegedly on June 30, 2017 at Chang'ombe were found with 43 bundles of fabric used for making TPDF uniforms valued at over Sh200 million.
The accused were also allegedly found in possession of rubber stamps property of the TPDF, without lawful authority.
After reading the charges, prosecution produced a certificate to object bail to the accused from the Director of Public Prosecution on the grounds of national security.