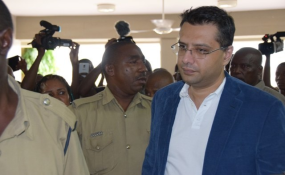 Photo: Daily News
By Faustine Kapama
THE Director of Public Prosecutions (DPP) has dropped the economic sabotage case against prominent businessman Yusuf Manji and three others, who were charged with being in possession of military uniform fabrics worth over 200m/-.
Senior State Attorney Mutalemwa Kishenyi, for the prosecution, told Principal Resident Magistrate Huruma Shaidi at the Kisutu Resident Magistrate's Court in Dar es Salaam yesterday, that the DPP had decided to enter a "nolle prosequi" certificate in favour of the accused persons.
Those who had been charged alongside Manji are officials with Quality Group, Deogra tius Kisinda (28), the Human Resources and Administrative Officer, Abdallah Sangey (46), storekeeper and Thobias Fwele (43), Assistant Store Keeper.
He reported that the DPP withdrew the charges under Section 91 (1) of the Criminal Procedure Act (CPA), stating that the prosecution would no longer pursue charges against the four individuals.
Immediately after receiving the DPP's certificate, the magistrate proceeded to discharge and declaring them free. The provision under which the DPP had relied upon to drop the charges allows him to re-arrest the accused persons and charge them with the same offences.
It had been alleged that on June 30, this year, at Chang'ombe A area in Temeke District, jointly and together, all the accused per sons were found in possession of 35 bundles of fabric used for uniforms of the Tanzania People's Defence Forces (TPDF), valued at 192.5m/-.
Manji and his co-accused were also charged with a similar count of being found with eight bundles of the same materials valued at 44m/-. They allegedly committed the offence on July 1, this year, at Chang'ombe A area in Temeke District in the city of Dar es Salaam.
It was alleged by the prosecution that on June 30, this year, at the same area in Temeke District, the accused persons were found in unlawful possession of government stamps, which are three rubber stamps of the TPDF, bearing different addresses without lawful authority.
The stamps, according to the prosecution, contained different addresses, including, "MKUU WA KIKOSI 121 KIKOSI CHA JESHI JWTZ, KAMANDA KIKOSI 834 KJ MAKUTUPORA DODOMA, COMMANDING OFFICER 835 KJ, MGAMBO P.O. BOX 224 KOROGWE."
It was further alleged that the act by the accused persons of being found with the rubber stamps of TPDF addresses, was prejudicial to the safety or interests of the United Republic of Tanzania.
The prosecution also alleged that on July 1, 2017, at Chang'ombe A area within Temeke District, jointly and together, all the accused persons were found in possession of two motor vehicle registration plate number SU 383 and SM 8573, which were unlawfully acquired.