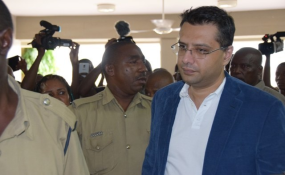 Photo: Daily News
The Director of Public Prosecutions (DPP) has dropped the economic sabotage case facing Dar es Salaam tycoon Yusuf Manji and three other people on the ground that there is no intention to proceed with it.
The procecution led by Senior State Attorney Mutalemwa Kisheyi told the Kisutu Court that the DPP was withdrawing the case under Section 91(1) of Criminal Case Proceedings Act.
After the submissions of the plea, Resident Magistrate Huruma Shahidi declared Mr Manji and co-accused free.
However, Manji left the court premises in a Toyota Altezza.